Back to Main Calendar
Learn to Tango: Elena and Victor Pankey
Description:

Tango Caminito Dance Company Producer, tanguera Elena Pankey and husband, Victor Pankey, learned and polished their tango skills in Argentina with some of the best teachers in the world. Elena completed tango choreography and master classes and obtained a professional diploma as a tango teacher.
Elena has designed a special course for couples: "Tango as a Relationship Therapist." It teaches how to listen to each other, how to develop deep concentration during the dance, and how to be a strong leader and a creative person. Their special course during Couples Week includes: "Energy and Connections in Tango Embrace" (tango box is the first 8 magical steps); "Tango as a Relationship Therapist" (four main starts in tango); "Leaning Tango is Leading Life" (Back ocho, front ocho); "Communication in Tango" (four poses in tango; embellishments, adorns, lapis); "Tango is Just a Walk with Love in Your Heart" (tango unique walks); and "Tango Meditation: How to Listen to Each Other" (some unique moves and steps: lean, parada, barrida).The couple founded Tango Caminito School in Fallbrook, California (www.tangocaminito.com) where they teach authentic traditional Tango Argentine (salon) style.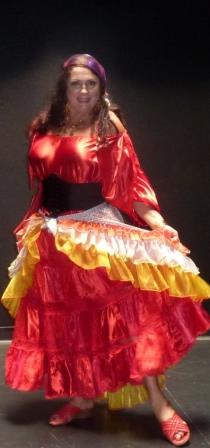 Authentic Gypsy:  Two Dance Classes by Elena: Let your own gypsy spirit fly free.
During two Gypsy lessons with Elena women learn hands, arms, fingers, and feet positions and fun movements. These lessons are pure joy for women of any age. Elena's Gypsy Dance Lessons bring out the mystery and adventurous qualities of Gypsy vibrant music.
Enjoy: Elena Gypsy dance Improvisation ( "Don Quixote"): http://www.youtube.com/watch?v=DElS-AtRU4E
Elena acting La Gitana: http://www.youtube.com/watch?v=-YIjK9bOHbw