Back to Main Calendar
Culinary Experiences at La Cocina Que Canta: Visiting Teacher Ris Lacoste
Description: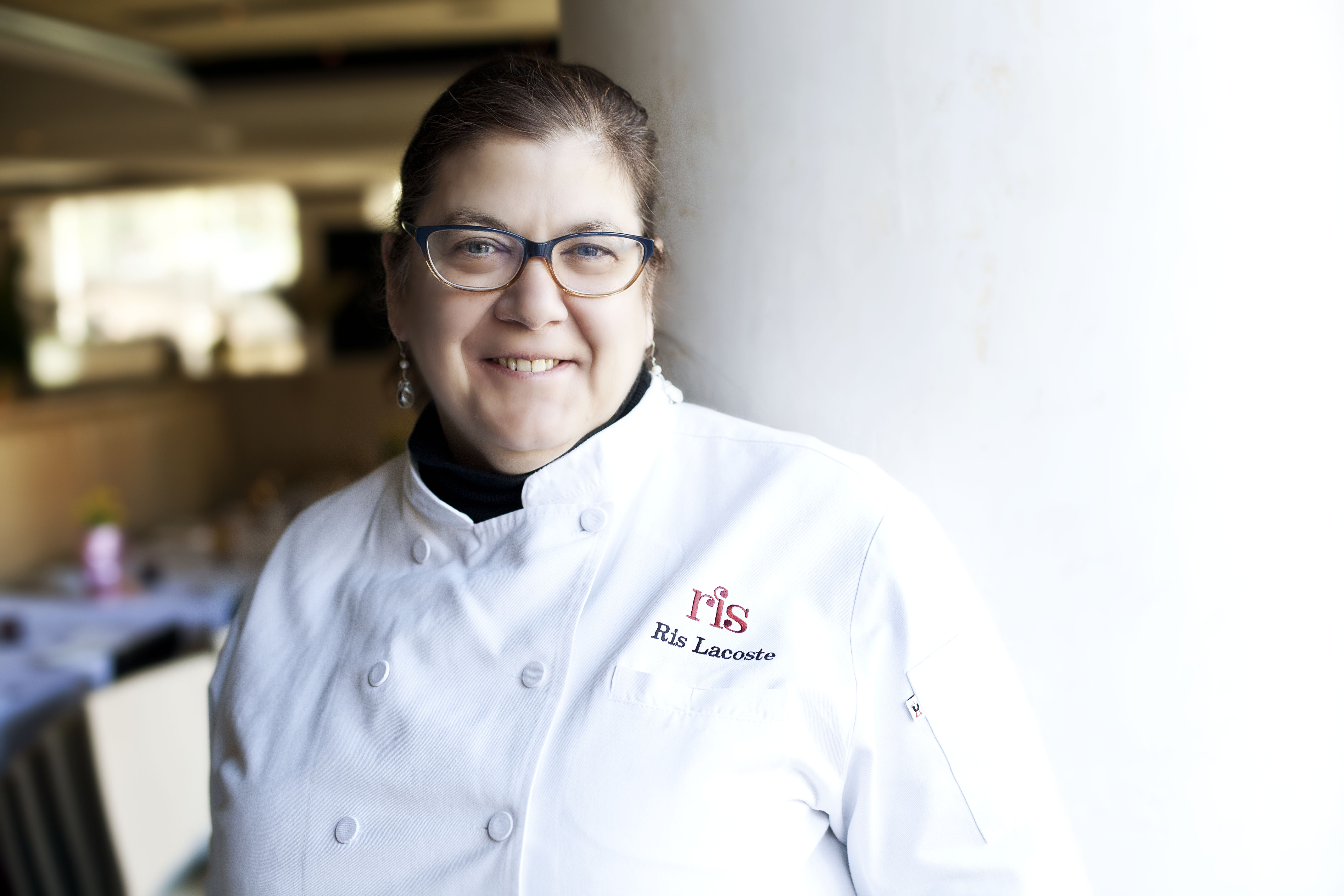 RIS LACOSTE is one of the most respected and dedicated chefs working in Washington D.C. today. She has earned her reputation built upon high-quality ingredients, bold innovative technique, and food that is both familiar and simply delicious.
For the last decade Lacoste has served as executive chef of Georgetown's celebrated 1789 Restaurant. Her innovative regional American fare drew national attention and earned numerous awards, including those from Wine Spectator, The Washington Post, Washingtonian, as well as nomination from the legendary James Beard Foundation (JBF). The Restaurant Association of Metropolitan Washington (RAMW) named Lacoste "Chef of the Year" in 1999 (she was nominated again for this award in 2005) and awarded 1789 Restaurant its "Restaurant of the Year" prize in 2000. She was one of three chefs to compete in the Food Network's Iron Chef America in September 2005 and was Iron Chef for the D.C. Central Kitchen's (DCCK) Capital Food Fight in 2004 and 2005.
Lacoste has been a fixture on the D.C. culinary scene for almost two decades. Following her studies at the famous La Varenne Écôle de Cuisine in Paris, France, she returned to her native New England and joined Chef Bob Kinkead at the Harvest Restaurant in Cambridge, MA. She helped Kinkead open 21 Federal in Nantucket, MA, in 1985 followed by Twenty-One Federal in Washington, D.C., in 1987. In January 1992, Washingtonian magazine named them Restaurateurs of the Year. In 1993, as chef de cuisine, Lacoste opened Kinkead's American Brasserie, which has become a D.C. dining institution. Lacoste participated in other District restaurant openings, including those of Vidalia, Eye Street Café and Rock Creek at Mazza. In 1995, Lacoste was named executive chef of 1789 Restaurant, where she brought innovation, culinary consistency, and a reinvigorated spirit, and in so doing delivered unprecedented national recognition and local acclaim.
A native of New Bedford, Massachusetts, Lacoste grew up in a household that emphasized the importance of hospitality and good food. She began her career at the young age of 12, when she worked at Johnny Gorka's Polish Market. Lacoste's educational background is eclectic: she followed a pre-med curriculum at the University of Rochester in New York and ultimately graduated with a degree in French at the University of California at Berkeley, which led her to Paris. There she earned a Grand Diplôme from Anne Willan's La Varenne Écôle de Cuisine. After a stint as sous chef for Buddy Bombard's Great French Balloon Adventure in Burgundy, Lacoste returned stateside in 1982 and commenced her celebrated working relationship with Bob Kinkead.
In Washington, Lacoste is well known for her commitment to community involvement. She was an active member of the National Board of Directors for the American Institute of Wine and Food (AIWF), and has served as Chairman of its National Capital Area Chapter. She also sits on the board of RAMW and is a member of its Education Foundation; she is a member of the board of DCCK; and she is on the Advisory Board of the Hospitality High School of Washington, D.C. Her professional affiliations and memberships include the Women's Forum of Washington, D.C. (WFDC), Women Chefs and Restaurateurs (WCR), JBF, Chefs' Collaborative and Les Dames d'Escoffier. She actively participates in fundraising efforts for the Ovarian Cancer National Alliance, St. Jude Children's Hospital, DCCK, and Suited for Change.
A talented educator committed to young people, Lacoste is a mentor for the students of Hospitality High School of Washington, D.C., a public charter school that focuses on enhancing the educational employment opportunities in the hospitality industry. She works closely with L'Academie de Cuisine, where she assists in the continuing culinary development of their students. Lacoste is also a writer and regular contributor to Fine Cooking Magazine.  In 2002 she created "Cooking for Julia" a documentary aired on PBS celebrating the 90th birthday of Julia Child.  She is often invited to participate in competitions and food events both nationally and internationally, including Iceland's Food and Fun Celebration in Reykjavik, St. Petersburg, and Helsinki, Canada's Food and Wine Festival in Niagara, and Disney World's Regional Feasts in Orlando.
Beyond the kitchen, Lacoste's favorite place to be is in the middle of a local farmers' market, hunting down the freshest fruits and vegetables and chatting and getting to know the farmers who grow the food she serves. These markets, where she frequently presents chef's demonstrations, are not only a source of inspiration for her cuisine, but a meeting point to talk about the importance of investment in the local community and dedication to the ideals of local and sustainable farming.
Her latest and most personal venture is the culmination of a delicious career. Couple her sophisticated pedigree with a deep-rooted dedication to the community, keen understanding of genuine hospitality, and a most unique vision, and therein evolved RIS. RIS is the incarnation of Lacoste's personal style, sensibility and in every manner of speaking, taste.   It will embody her passion for flavor, her commitment to excellence and her genuine dedication to giving back to those who have given her so much.
Ris offers three hands-on culinary experiences, 3.5 hours each, during which you will enjoy preparing your own meal along with fellow cooks. Classes take place at La Cocina Que Canta, our new culinary center.
For more information and registration, please click here.