Back to Main Calendar
Lenny and Larry… The Poker Guys
Description: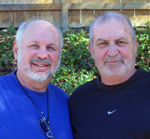 Tuesday, Wednesday, Thursday 4 pm
Learn the game of Hold-em Poker that everyone is talking about. Its fun, allows you to play the competition… think and test your skills. You will learn the basics of card ranking, the rules of the game and betting structure.
With only one or two lessons you will be ready to play in an Open Tournament for prizes and the title of HOLDEM CHAMP AT RANCHO LA PUERTA. All players will receive an online DVD of the tournament. "San Diego" Larry and Lenny "Moe" Hecht have been friends for over 50 years. They started playing poker in the 50's in Long Island, NY. Separate paths brought them both to San Diego.
Beginners are welcome. The only prerequisite is you must have a poker nickname!!