Back to Main Calendar
Culinary Experiences at La Cocina Que Canta: Visiting Teacher Leslie Cerier
Description: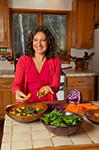 Tuesday and Thursday at 4pm
Leslie Cerier, "The Organic Gourmet," is an internationally recognized chef, who specializes in local, seasonal, whole foods and organic cuisine with 20+ years experience. Chef, Educator, Culinary Nutrition Coach, and Author of 6 cookbooks: "Visionary, Cooking, Food for the Eyes" (co-author, 2013), "Gluten-Free Recipes for the Conscious Cook" (2010), " Going Wild in the Kitchen" (2005), among others. Leslie teaches vegetarian, vegan and gluten-free cooking for health, vitality and pleasure. Leslie's expertise in culinary nutrition has led to her being much sought after by health professionals and private clients to help them translate challenging dietary allergy issues into culinary success and meal satisfaction.
On the Web: www.lesliecerier.com
Leslie offers three hands-on culinary experiences, 3.5 hours each, during which you will enjoy preparing your own meal along with fellow cooks. Classes take place at La Cocina Que Canta, our new culinary center.
For more information and registration, please click here.