Back to Main Calendar
Facing the Extreme | Ruth Anne Kocour
Description: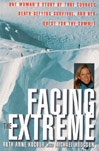 Facing the Extreme
Saturday 8:00pm
The subject of Ruth Anne Kocour's book by the same title, this PowerPoint slide presentation details triumph and tragedy on Alaska's Mt. McKinley (Denali).  Hit unexpectedly by the so called Storm of the Century, her team was pinned down on an ice shelf for ten days in 110 mph winds, minus 47 degree air temperatures, and wind chills that exceeded 150 degrees below zero.  While avalanches crashed down around them, other climbers died, yet they went on to be the first group to summit McKinley that year.  The storm took 11 lives in as many days.  In this presentation, they climb the mountain and focus on survival, group dynamics, and critical decision making.


Walking the War Zones of Pakistan: One Woman's Journey into the Shadow of the Taliban
Monday 8:00pm
Ruth Anne Kocour takes us on her journeys to K2 and Pakistan's tribal regions bordering Afghanistan, Kashmir, Tajikistan, and China, which are the subject of her book, "Walking the War Zones of Pakistan." During this PowerPoint slide presentation, you'll see topography that has led to isolation--physical and cultural--of people who for centuries have been kept in the dark by natural barriers, lack of infrastructure, lack of communication, and illiteracy. This simple tale of travel and adversity lends a face to news we hear every day and a glimpse into what we all have in common—our humanity.


A Walk Across Bhutan, Land of the Thunder Dragon
Wednesday 5:00pm
Ruth Ann Kocour has made five treks into the most remote and inaccessible regions of Bhutan.  She won the trust of government officials, gaining access to areas off-limits to outsiders, including that of the semi-nomadic Brokpa people, many of whom still wear animal skins.  During this PowerPoint presentation, you will traverse the mountains that separate Bhutan from Tibet, explore rarely-traveled restricted areas, and visit seldom-seen ethnic groups.
She took us through disaster to the summit of Alaska's Mount McKinley in her book, "Facing the Extreme." In her book, "Walking the War Zones of Pakistan," Ruth Anne Kocour takes us to K2 and Pakistan's tribal regions bordering Afghanistan, Kashmir, and China. Kocour's adventures have been featured on CNN's International Hour and the Discovery Channel. Her photos and stories have appeared in People, Harper's Bazaar, Health, Sunset, Los Angeles Times, and San Francisco Chronicle. Ruth Anne has summited the highest peaks on four continents. She has climbed and trekked throughout Asia, Europe, Africa, and the Americas. Her background in art, science, and photography enables Kocour to bring to life battlegrounds of nature and cultures for her readers and speaking audiences.