Back to Main Calendar
YogaATHLETIC | Mark Gonzalez & Haley May
Description:
Experience a unique flow-based master yoga class designed to increase strength, flexibility and stamina. YogaATHLETIC combines dynamic breathing with strong, flowing and static movements set to an eclectic soundtrack. Mark's signature yoga classes are known for being robust, playful, invigorating, purifying and an all-around dynamic experience.
Open to all levels! (Although the class is physically demanding, modifications are offered for those who do not feel comfortable doing certain poses. Beginners are always welcome, although it is recommended that students have an existing yoga practice before coming to this class.)
M

ark is a Yoga Instructor, Personal Trainer and Holistic Lifestyle Coach residing in the San Francisco Bay Area. His current clientele and work experience in the fields of health and fitness has involved companies all over the bay area, such as training executives at Google/YouTube, dot-comers at Equinox, athletes at Crunch, and new moms at ClubSport, just to name a few. He is also the on-site yoga/fitness expert at various private startups, spas and wellness centers in and around SF. He's been featured in Yoga Journal magazine and the 2012 Yoga Journal Talent Search Winner.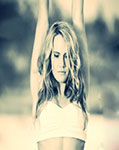 ERYT Certified Yoga Instructor, Health & Fitness Enthusiast, Pilates Master Teacher, Schwinn Certified Cycling Instructor, WA State Physical Education & Health Teacher Fitness Model.
To some, it's just a byproduct of a great work-out, to Haley May? It's a religion. Sweat. She loves to do it - whether it's through yoga, running, strength training, or pilates. Haley has been sweating all her life and has been involved in competitive sports since she could walk. Her background in collegiate athletics (basketball and track) gives her a unique perspective on motivation and training. She has also completed several marathons, and to say she has a passion for fitness is an understatement. Haley knew she wanted to take that passion, plus her degree in Exercise Science, and put it to use for a rewarding career.
Haley found a home and inspiring teaching community at CorePower yoga in San Diego. Yoga has opened up an entire new world for Haley May and in the past three years she has built not only a personal connection to yoga - but a unique connection to the culture, the community and teachers and students alike. Some call the yoga community a cult - Haley May calls it a lifestyle. Haley May is currently a co-owner and founder for Hardcore Fitness San Diego and is excited to see the fitness and yoga community collaboratively thrive on loving the body, mind and soul! Visit hardcorefitnesssd.com.