Back to Main Calendar
You Can Fly Concert | Deborah Winters, Ian Dogole, Rick Vandivier
Description:
Singing from the "Beat of the Heart" ~ A Vocal Workshop
Monday 3:00pm – Oaktree Pavilion
Tuesday and Wednesday 5:00pm
Oaktree Pavilion
Singing is the inner dance of the soul's imagination partnered with the body. It is a pathway to expressing your joy, courage, love and sorrows.
If you've always wanted to sing but just haven't had the right opportunity, your time has come! This class will provide a safe and fun platform for you to discover your voice and sing with confidence and joy. At each session you will learn vocal exercises used by the pros to enhance and strengthen your vocal range and flexibility. Breath work training will increase your connection to your body's energy and help you learn to relax while singing. We will explore a variety of musical styles and engage in the joyful activity of group singing through tonal sounds and the use of harmonies.
Rhythm practice is equally vital to the art of singing. In this workshop, you will also have a unique opportunity to find your groove and sing to the beats of African and South American drums played by percussionist Ian Dogole.
This is going to be a super fun ride, so join us, find your voice and fly!
You Can Fly Concert
Thursday 8:00pm
Oaktree Pavilion
Enjoy a special evening of original compositions and fresh interpretations of well-known songs from the jazz, rock and pop traditions that will open your heart and bring joy to your soul. Vocalist/guitarist Deborah Winters has been described by legendary Jazz writer Herb Wong as "a proponent of elasticity and daring that reflects the seductive logic and artistry of jazz." She will be accompanied by internationally acclaimed global percussionist, recording artist and educator Ian Dogole and virtuoso jazz guitarist, composer and educator Rick Vandevier. In the magical setting at Rancho La Puerta, these three San Francisco Bay Area-based musicians will spin musical tales and cast a warm glow over all who share in this intimate musical journey. And don't be surprised if a few attendees from Deborah's "Singing from the Beat of the Heart" workshop make a guest appearance on-stage with the ensemble!

A lifelong resident of the San Francisco Bay Area, Deborah Winters' childhood was immersed in music and dance. Heavily influenced by her father, who pursued the drums as a young man, and by her mother, who was a professional ballet dancer for the Oakland Metropolitan Ballet Company, Deborah developed a passion for music, dance and the theatre at a very early age. Big Band sounds rang through the household where Deborah and her father listened to the likes of Ella Fitzgerald, Duke Ellington, Stan Kenton and Woody Herman, to name a few. During her adolescent years, while moving around the country with her family, Deborah commenced her study of voice and the guitar. Deborah became increasingly influenced by singer/songwriters such as James Taylor, Joni Mitchell and Rickie Lee Jones. As an acting/theatre major in college, Deborah sought to combine her love of music, dance and art through the stage as a musical actress. However, her ongoing desire to sing and play the guitar in intimate settings kept pulling at her heartstrings. This led to Deborah playing clubs and finding her way into the studio to record a few of her own compositions before graduating.
As her musical palate expanded to include jazz standards and contemporary musical forms, Deborah began to perform in San Francisco and establish musical alliances with some of the Bay area's most highly acclaimed performers.
In 2003, Deborah released her debut recording, live "in session" on her Pure Passion Productions label, featuring an all-star cast of Bay area musicians. The CD offers an exquisite program of Deborah's spirited and stirring original compositions, along with a few chestnuts such as "In a Sentimental Mood," "You Send Me," and "Fields of Gold." 2009 witnessed the release of Deborah's second CD, Inspired, again on her Pure Passion Productions label. Produced and arranged by award-winning producer / arranger / pianist / vocalist Gary Malkin, this project elegantly portrays Deborah's more introspective side, with heartfelt original compositions and a gorgeous rendition of world-renowned pianist/arranger/composer Dave Grusin's "What Matters Most."
On her soon-to-be released CD, Lovers After All, for the Jazzed Media label, Deborah joined forces with trumpeter/arranger/producer Peter Welker and a stellar cast of Jazz luminaries from San Francisco, New York, Boston and LA. This lofty big-band excursion traverses the vast expanse of jazz history – from the 40s to the present – from some of the best-loved standards to rarely heard gems. In choosing the songs in this recording, Deborah and Peter sought out jazz composers whose pieces provided the ideal platform to showcase her extraordinary versatility and her trademark feeling of intimacy.
Variety and versatility characterize Deborah's ongoing performance schedule. From straight-ahead jazz to inspirational to folk and rock, Deborah continues to dazzle and uplift her audiences at Bay Area music festivals, concert halls, churches and house concerts. Her jam-packed teaching schedule attests to the profound impact she has on developing up-and-coming vocalists in a broad array of musical styles.
Deborah Winters' perpetual search for new ways to express her highly captivating and emotionally riveting music are always front and center in her evolution as a singer, guitarist and songwriter. Her legions of fans are in for a treat as her quest continues.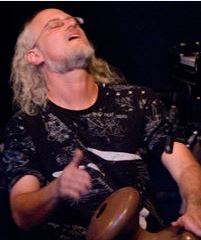 For over 30 years, Ian Dogole has articulated his vision of Global Fusion Music as a multipercussionist, bandleader, educator, recording artist, composer and producer. He has released seven records and a DVD as a leader – Along the Route, Dangerous Ground, Ionospheres, Night Harvest, Convergence, Crossroads, Outside the Box – Jazz Journeys & Worlds Beyond and Ian Dogole & Hemispheres In Concert (DVD). Ian has recorded and performed with artists such as Hamza el Din, Tito La Rosa, Richie Cole, Paul McCandless and Alex de Grassi. He performs on a wide variety of percussion instruments, including udu, cajon, hang, African talking drum, kalimbas, cymbals and dumbek. Ian has received numerous grants, including a Jazz Performance Fellowship from the National Endowment for the Arts, two recent grants from the San Francisco Friends of Chamber Music (SFFCM) to present musical tribute concerts in honor of jazz legends Woody Shaw and Wayne Shorter, and multiple grants from the Marin Arts Council. Ian is very active as a music educator – having presented assemblies to more than 60,000 elementary school students in his four seasons with the San Francisco Symphony's Adventures in Music program and he has just completed his third season presenting a global world music appreciation series to students at Redwood High School in Larkspur, CA. Ian has also offered his music education programs through numerous nonprofit organizations, including Bread & Roses, Young Imaginations, Youth in Arts and Young Audiences of the Bay Area. On the web www.iandogole.com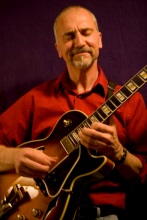 Born in Lima, Ohio, Rick Vandivier is a graduate of the Berklee School of Music in Boston and San Jose State University. In addition to private studies with Pat Metheny and Mick Goodrick, Mr. Vandivier has taken master classes with Christopher Parkening, Ray de la Torre, Michael Lorimer, Michael Hedges, Tuck Andress and Manuel Barreuco. Other artists Rick has performed with include Smith Dobson, Albert "Tootie" Heath, Bruce Forman, John Handy, Mose Allison, Carl Saunders, David Grisman, Richie Cole and Dr. Lonnie Smith. Rick has also worked with the San Jose Symphony Orchestra, and the orchestras of the American Musical Theater of San Jose, Opera San Jose, and Theaterworks. Rick's performing career has been highlighted by performances in: The Hague, Berlin, Abidjan (Ivory Coast, Africa), the Chicago Opera House, the Wilshire Theatre in Los Angeles, the Berklee Performance Center in Boston, the Great American Music Hall and the American Conservatory Theater in San Francisco, the Seattle Opera House and the Metropolitan Museum of Art and Carnegie Hall, both in New York City.  In addition to his performing career, Rick has been active as a teacher at Stanford University, San Jose State University, and at Gryphon Stringed Instruments in Palo Alto, CA.  Rick is a composer for video soundtracks for clients such as Hewlett Packard, Sun Microsystems, and SyberVision Systems. A devoted husband and father, he lives in the San Francisco Bay Area with his wife, Kristi, and their sons, Preston and Kai.