Back to Main Calendar
Culinary Experiences at La Cocina Que Canta: Visiting Teacher Marie Simmons
Description: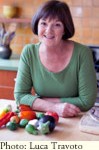 Marie Simmons is an award-winning cookbook author, recognized food writer, talented cooking teacher and lively storyteller. Marie is the former senior food editor at Cuisine magazine and test kitchen editor at Woman's Day magazine.
Marie has made hundreds of radio and TV appearances including: CBS This Morning, Good Morning America, Mike and Maty, CNN Cooking 101, TV Food Network, Home Matters, The Main Ingredient, and At Home.
She has written a monthly column, "Cooking for Health," for Bon Appetit magazine and a syndicated newspaper column, "Fresh & Fast," for the Los Angeles Times Syndicate, for over 15 years. Marie currently writes a bi-monthly column, "Simmons Sez," for the Contra Costa Times. In addition, her recipes and articles have appeared in over a dozen popular consumer magazines, including Eating Well, Food & Wine, Fitness, Shape, Cooking Light, Ladies Home Journal, The Old Farmer's Almanac, Modern Maturity, Redbook, Prevention, Real Food and McCall's. Marie has taught on both US coasts, and in between, including: The New School Culinary Center, Peter Kump's Culinary Center, New York University, and Macy's De Gustibus, on the East Coast; and Ingredients in Danville, CA; Ramekins in Sonoma, CA; Let's Get Cooking in Los Angeles, CA; and Sur la Table, nationwide. Marie has also guest-taught at In Good Taste in Portland, OR; The Rocky Mountain Culinary Center in Boulder, CO; and Central Markets in five locations in Texas. She also held the position of Culinary Programs Manager at Copia: The American Center for Wine, Food, and the Arts in Napa, CA. Marie has authored (or co-authored) over 20 cookbooks. "365 Ways to Cook Pasta" (Harper & Row, 1988) has over 450,000 copies in print. "The Good Egg" (Houghton Mifflin, 2000) won the James Beard Award. "Lighter, Quicker, Better" (co-authored with Richard Sax), won both the Julia Child and James Beard cookbook awards. Another cookbook, "The Light Touch," was nominated for both of these awards, as well. Marie wrote the Beans and Grains chapter for the "New Joy of Cooking" (Scribner 1997). She is the writer of the first cookbook from Sur La Table, "Things Cooks Love: Implements and Ingredients." She is also the author of "Fresh & Fast" and "Fresh and Fast Vegetarian" (Houghton Mifflin).
Marie offers three hands-on culinary experiences, 3.5 hours each, on Tuesday from 4: - 7:30, Wednesday from 11 – 2:30, and Thursday from 4 – 7:30, during which you will enjoy preparing your own meal along with fellow cooks. Classes take place at La Cocina Que Canta, our new culinary center.
For more information and registration, please click here.