Back to Main Calendar
Tai Chi | Maedée Duprès
Description:
A specialty week with Maedée Duprès with two group classes a day, one in T'ai Chi Ch'üan and the other in the Alexander Technique.
We will learn about a neutral, well-aligned center from which you can move beautifully and gracefully with less effort and increased efficiency.
The T'ai Chi Ch'üan uses slow meditative movements bringing Flow, Balance and Clarity to your whole being.
The Alexander Technique brings awareness to all your movements as you re-learn your anatomical truth, like re-mapping your body. Being closer to oneself and more knowledgeable, one feels refreshed and energized with a clearer communication on how the mind/body functions.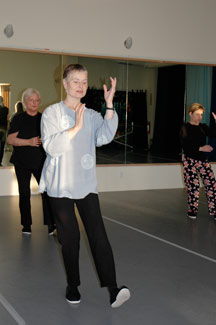 Maedée Duprès, a native of Switzerland, is an internationally acclaimed Modern Dance soloist, and trained and certified in the Alexander Technique as well as CranialSacral Treatment.
As a dancer, she lived in London, England where she studied T'ai Chi Ch'üan with Gerda Geddes. Her teaching career brought her to Oberlin College and Regis University. Combining her interests in alternative therapies and movement, Maedée founded a living arts centre in 1993. Today she brings artists and holistic practitioners together in a brand new facility which is dedicated to the community's well-being.