Back to Main Calendar
Improving Posture, Strength and Flexibility with the Feldenkrais® Method | Donna Wood
Description: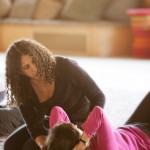 The Feldenkrais® Method is a learning-based system that uses the relationships of movement with thinking, feeling and sensing. Through subtle motion we explore our own sensations, developing our ability for internal feedback and natural self-correction. This leads to the reorganization of how we move, breathe, act and experience ourselves in the world. The Feldenkrais® Method has the power to change deeply held patterns and habits that constrain our potential. It has profound positive effects on our abilities and reduces stress, tension and fatigue.
This week, we will learn new postural habits and develop a dynamic approach to developing strength, flexibility and balance--ultimately improving the range of motion in our joints and learning to move with greater efficiency and grace.  Each class begins with slow, unusual, delicate movements in a variety of positions, and progresses into more dynamic, challenging movements. This process enhances our balance, coordination and fosters creative thinking.
Donna Wood has been teaching and exploring the Feldenkrais® Method for more than 15 years. She is also deeply immersed in the martial arts and dance; she holds a black belt in the Japanese martial art of Aikido, and is a Professor in the Brazilian martial art of Capoiera.
"I am excited to share my approach to the Feldenkrais® Method, informed by my martial arts and dance training. These disciplines have shaped my life in unexpected ways. The Method is dynamic, but it is also small--with tiny, sensing differences."
Donna lives in San Diego and has a private practice on both sides of the Border. She works with athletes, dancers, people recovering from injuries, and those experiencing pain. She teaches in France, Italy and Greece.  Donna has the additional certification of Assistant Trainer and teaches in four-year Feldenkrais® Professional Training Programs.