Back to Main Calendar
Photographing the SPIRIT of Rancho La Puerta | Connie Reider
Description:
Make Your Portraits Come Alive.  Portrait photographer Connie Reider invites you to an entertaining evening "focusing" on how to make images of people and pets which are spontaneous, creative, and filled with emotional energy. Using her personal portfolio, as well as demonstrations with audience participation, you will be given easy take home tips to improve your photography. No matter what camera you own, or what experience you possess, this will be an evening of looking, learning, and laughing.
Also, come join us for a four-day workshop building up your creativity muscle and awakening your inner eye to the SPIRIT of Rancho La Puerta.
DAY 1:  The SPIRIT of PEOPLE
We will go over The Photographic Tool Box which will help to build up your create muscle.  There will be a demo photographing people, using tried and true techniques to relax your subjects, creating portraits which are alive and real.   Practice time with the group will follow so that you can use these tools throughout the week.
DAY 2:  The SPIRIT of The LAND
We will have a discussion of "What is Spirit", followed by a slide presentation of photographs taken by guests at The Ranch, exemplifying The Spirit of Rancho La Puerta.  More tools from the Photographic Tool Box will be reviewed to help capture Spirit.  A demo will follow.
DAY 3:  The SPIRIT of The RANCH
We will share a delicious exercise to relax the body and mind, and then go out and photograph SPIRIT.  Participants will then select and give their four favorite images from the week to Connie.
DAY 4:  Presentation of Images Showing The SPIRIT of Rancho la Puerta
Join us for a beautiful slide presentation, showing the rich images taken during the week.  A gentle critique will review the lessons presented and help to take The SPIRIT of The Ranch home with you.
No photographic skills are necessary, just an open heart and a desire to see beauty. Traditional cameras as well as smart phones will work.  You can come to all sessions or drop in occasionally.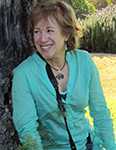 For more than 30 years, Connie Reider has specialized in portraiture and event photography in the Washington D.C. area. She has traveled the world extensively, creating fine art images. Her photography is found in corporate and private collections and has appeared in several one-woman and group shows. In her book, In Shadow and Light…Looking for the Gifts of Cancer, she used her camera to express the profound changes she experienced during her personal journey with breast cancer. In 2004, Connie co-founded The F. Holland Day Center for Healing and Creativity in Georgetown, Maine where she served as Creative Director leading retreats for women with cancer. She then established INscape, The Healing Art of Photography, offering retreats in personal growth, cancer survivorship, and aging. She recently embarked on a new book project, "Wise Elders", interviewing and photographing men and women over the age of 90, documenting their legacies, and positive messages of how to age with grace, vitality, and purpose.