Back to Main Calendar
Iyengar Yoga | Jill Ganassi
Description:
S, M, T, W, Th & F, 11:00am, Montana
Yoga is great exercise for the body, mind and spirit. It can be used therapeutically as well, to aid in healing many kinds of injuries, both physical and emotional. Yoga can also significantly reduce stress. Anyone can practice yoga— you do not have to be strong or even flexible. We will start at your level of ability and build from there. Through a systematic progression of poses your abilities will develop over time, encouraging confidence and commitment.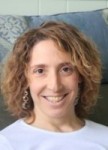 Jill Ganassi has been studying yoga since 1996 and teaching since 1998. She is a Certified Iyengar Yoga Instructor and is dedicated to practicing and teaching yoga in the method and tradition of B.K.S. Iyengar. In addition to teaching in other yoga studios such as Yoga Haven in Tuckahoe, she has her own center, The Lake House, where she teaches group and private Yoga classes and has a Stress Management and Hypnosis practice. Jill is a  NY State Licensed Master Social Worker and is certified in Ericksonian Hypnosis. She also teaches workshops on yoga and hypnosis around Westchester County and the tri-state area and teaches the philosophy portion of Yoga Haven's teacher training.
You can learn more about Jill on her website at jillslakehouse.com.