Back to Main Calendar
NIA | Sabine Zweig and Philippe Beaufour
Description: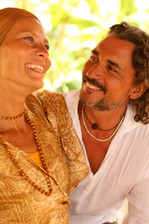 Sabine Zweig
Nia Training Faculty, certified Black Belt Nia Teacher & Nia Trainer, certified Nia 5 Stages Teacher, Pilates & Movement & Dance Teacher, Architect & Designer, Integral Health Coach.
Sabine, 43 years, German has shared her life during the last 18 years between Auroville in South India and Hamburg in North Germany.
She has studied for the last twenty-three years of her life, dance & movement & meditationt from Ballet to Modern Dance, from Hip Hop to Jazz-Afro, from Indian Classical Dance to Nia, from Soulmotion to Dance Therapy, Yoga & Meditation, Pilates, Tai Chi and Chi Kung
Certified Nia Trainer and Black Belt Nia teacher and certified Nia 5 Stages Teacher she has a passion for this holistic fusion movement practice which integrates all realms of being (physical, emotional, mental and spiritual). Living and dancing with a chronic disease since her brith, she has devoted her life to motivate and inspire everybody  to integrate movement for joy, selfhealing and spirital alignement in life.
Passionate about travelling, she has journeyed on every continent and has a special and deep connection to India and Auroville. Her first studies in philosophy and communication lead her naturally to embrace the vision of buddhism and meet eventually the Dalai Lama in 1996; she devoted her architect diploma to the tibetans and created the project "the 4 elements" (including architecture, design, movie, soundinstallation in a big exhibition).
Philippe Beaufour
Nia Training Faculty, certified Black Belt Nia Teacher & Nia Trainer, certified Nia 5 Stages Teacher, Black Belt Kung Fu Teacher, Tai Chi/ Qi Gong Instructor, Pilates Teacher, Horse & Soul Educator, Integral Life Coach.
Philippe Beaufour, French, 46 years old, after academic studies in ESG High Business School of Paris and 5 years intensive practice and studies of chinese martial arts with master Tran Kinh leading him to receive his black belts , started his professional life as corporate real estate broker in Paris. After 6 years in the speculative years of the Parisian boom and bust, he went through a personal crisis that nothing could solve except a deep decision to change lifestyle, continent and life orientation. He got the intuition to settle in the international experimental city of the future Auroville in South India where he has lived for 18 years as an Aurovilian. The practice of the "yoga of life", conscious living and social experiment led him to unfold and unveil all the tools he needed to realize his dreams and deepest desires until he eventually met his life partner Sabine Zweig, dancer architect and designer. Together with her, he is leading a nomadic conscious lifestyle in Asia, Europe and the USA, teaching worldwide and giving workshops and retreats in the fields of conscious movement (Nia, Beats of Soul, Chakra Awakening...) and life transformation.
Niamaste – LIFE AS ART * movement * dance * energy * transformation * design - niamaste.com