Back to Main Calendar
Primal Play™ | Nancy Parker
Description:
Primal Play™ – Posture (Align & Strengthen)
S, T & Th, 2pm
Do you feel all tied up in knots? Do those aching pains return the day after the massage? This innovative left-brained approach to unwinding tension and improving posture will help rewire your brain and body, while effortlessly helping you to establish new habits and muscle memory. This class will teach you easy self-care techniques to heal your back, knees, shoulders, and neck, while strengthening your core and improving balance.
Primal Play™ – InBody Wisdom (a Meditation in Motion)
S, M, W, & F, 11 am
Are you ready to move stuck energy and unlock your full potential? This playful right-brained dance and movement class will reboot your body, mind, and spirit through flowing movements, guided meditation, and enlivening music. During this movement journey, we will explore how developmental patterns, somatic wisdom, chakras, and meridians can all combine to strengthen your capacity to thrive and come alive through tapping into your inner body wisdom. You will leave a bit sweaty, yet feeling grounded and connected; with a peaceful mind, an open heart, feeling energized and revitalized. No dance experience necessary at all!
Day 1 - A Dance of Connection
Day 2 - Playtime with your Inner Child
Day 3- Developing New Patterns
Day 4- InBody Wisdom (blindfolded movement practice)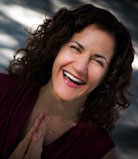 Nancy facilitates empowerment through embodiment. She is the creator of Primal Play and founder of Balanced Wellness. Her passions and expertise lie in facilitating emotional freedom through movement and dance. In addition she has been working with clients and groups for the past 16 years as a Posture & Pain Correction Expert & Digestive Health Coach. Nancy's holistic approach to movement and health is unique, informative, and simply enlivening. Her gift is exquisite body awareness, and her passion is helping you translate this awareness into a body and mind that function with ease and joy. Through keen observation and compassionate support, she helps you transform far more than your body. Her work leads you to restore core integrity and rediscover bliss, creating a playful, joyous connection to power, flexibility, and clarity like never before. Her holistic integration of all the bodily systems, and informative, yet playful approach to movement and health, makes her a highly sought-after mind-body teacher in the U.S. and abroad.