Back to Main Calendar
Don't Just Talk, Communicate! - Jan McLaughlin
Description:
Don't Just Talk, Communicate! | Jan McLaughlin
DON'T JUST TALK, COMMUNICATE!  Have you ever just started talking only to find yourself mired in a confusing discussion or even an argument?  Ever had a knee-jerk reaction?  Join JAN McLAUGHLIN and explore the four essential factors in communication.  We'll also take a look at the rapport-building techniques of remembering names and using humor.  Participants remark on how many more people they meet during their stay when they attend this program!
WHAT'S YOUR STYLE, WHAT'S THEIR STYLE?  Have you noticed that people often see things differently than you do?  Each of us communicates in our own way – our style.  Determine your style and discover how you can communicate more effectively with the people in your life.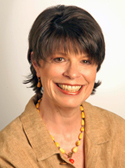 Jan McLaughlin, CSP, has been a member of the Ranch La Puerta family since 1979 and a presenter since 1993. She is the owner of the speaking, training and consulting firm, Your Communication Connection. Referred to in the Seattle Times as a "pioneer in the image industry" and "the most frequently-quoted image professional in the Northwest," she was a popular guest on television and radio and in demand as a speaker.