Back to Main Calendar
¡Fiesta de La Cocina Que Canta!
Description:
¡Fiesta de La Cocina Que Canta!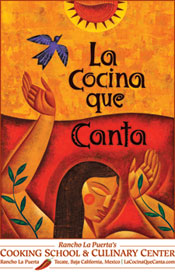 A Food Enthusiast's Special Week At Rancho La Puerta And Our Cooking School, La Cocina Que Canta.
Join famed cookbook author and chef Deborah Madison—along with esteemed chef/writers John Ash, Marie Simmons, Nani Steele and our own Denise Roa—at our semi-annual Culinary Week this year!
This year's Culinary Week will feature hands-on classes with our guest chefs, plus a WINE COUNTRY TOUR, plus DINNER IN EL LUGAR DE NOS (Tecate's hottest new restaurant), and more…
Culinary Week Package $495 per person + tax PLUS 10% off any available room*.
Call our experience planners
for more details.
877-440-7772
*For this special discounted rate the Culinary Package & room must be booked by August 1, 2013. Space is limited.