Back to Main Calendar
The Write-Teen, Designer Doodles and More! | Lena Rivkin
Description:
Designer Doodles!
Sunday and Thursday 1:00 pm
CHILDREN
Create your doodling empire and unleash the wild artist within!
The Write-Teen
Sunday 5:00 pm
TEENS
Explore graphology and analyze the handwriting samples of celebrities such as Lady Gaga and Justin Bieber and more.
Matisse Mashups
Tuesday 1:00 pm
CHILDREN/FAMILY
Discover Henri Matisse and create your own cool collage.
Creative Expansions
Wednesday 1:00 pm
TEENS
Free your inner Picasso! Put your own spin on a masterpiece!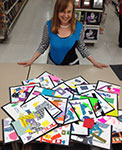 Lena Rivkin, MFA, is an internationally recognized graphologist with a particular interest in the interpretation of human dynamics. She provides graphology analyses for Fortune 500 companies and international corporations to screen applicants and employees. Lena also regularly consults on handwriting analyses and forensics for private investigators, universities, and government agencies. Graphology explores the subconscious psychology revealed through our handwriting. In her talks, Lena analyzes the handwritings of some of our most well-known personalities, from artists, athletes, entertainers and politicians to historical figures. In addition to her work as a graphologist, Lena is a nationally exhibited visual artist and college art professor. She is on the art faculty at Mount St. Mary's College and University of Phoenix, and teaches art to children at the Los Angeles County Museum of Art.  Lena has been interviewed on radio and television, and her graphology and artwork have been featured in numerous publications, including Fortune Magazine, Mademoiselle, Art in America, Redbook, the Los Angeles Times, Houston Chronicle, W Magazine, and the Miami Herald.