Back to Main Calendar
Walking the Camino I Lydia B. Smith
Description:
Screening of Award Winning Documentary:  Walking the Camino: Six Ways to Santiago  Thursday 8pm
Brief Q & A with Director/Producer Lydia B. Smith to follow.
"Walking the Camino: Six Ways to Santiago" follows various pilgrims, from ages three to 73, as they attempt to cross an entire country on foot – with only a backpack, a pair of boots and an open mind. Driven by an inexplicable calling and a grand sense of adventure, each pilgrim throws themselves heart and soul into their physical trek to Santiago de Compostela, and most importantly, their personal journey to themselves. Whatever their motivation, no one can predict just how their paths will unfold, what personal demons or angels they will face, or what transformations they will undergo by trail's end. Called "A brilliant documentary" by Martin Sheen, this multiple award-winning film has been selling out screenings at film festivals worldwide and is just now being released in theaters.
Discussion of Walking the Camino with Producer/Director Lydia B. Smith  Friday 2pm
Join Producer/Director Lydia B. Smith in an in-depth talk on the Camino itself, the nature of pilgrimage, and the making of the film.  Lydia will also facilitate a discussion on the different levels of spirituality that are in the film and how it impacted the viewers.
Walk with Intention  Friday 3pm
After a brief guided meditation, join Lydia in a silent focused walk ending at the labyrinth.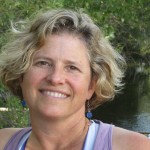 Lydia B. Smith began her documentary career over 27 years ago, and has a long history of collaboration with the producers on Walking the Camino: Six Ways to Santiago. Lydia directed, produced and wrote They're Just Kids, a 26-minute educational documentary showing how children with disabilities can positively affect our lives: A Legacy Revealed, a 40-minute historical documentary; Infiniti: Behind the Scenes; and a 20-minute biography Bill Lansing: A Tribute. Additionally, she was senior producer on CNN's Soldiers of Peace: A Children's Crusade; co-producer and 2nd unit DP on the CNN documentary The Mystery of the Arctic Rose; 2nd unit DP on the PBS show, Stand Up; American producer for Chilean TV's The Route of the Beringia; DP for Anthony Hopkins Teaches and more.  In addition to her producing and directing career, Lydia has worked as a camera assistant and operator commercials, top music videos and on major motion pictures including  Ed Wood with Johnny Depp,  Dangerous Minds with Michelle Pheiffer and  Matilda with Danny DeVito to name just a few.
Lydia is the perfect director/producer for Walking the Camino. She lived in Barcelona for over six years and speaks flawless Spanish, in addition to Italian and Catalan. She is an avid outdoorswoman and a lover of hiking and nature, as well as a licensed spiritual practitioner from the Agape International Spiritual Center and from the United Centers for Spiritual Living. During the spring of 2008, Lydia walked the entire 500 miles of the Camino de Santiago, and has a deep understanding of the power of the pilgrimage and of the captivating stories waiting to be told.