Back to Main Calendar
Culinary Experiences at La Cocina Que Canta | Visiting Chef Lisa Lavagetto
Description: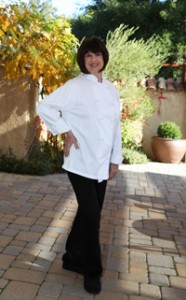 Tuesday, Wednesday and Thursday 4pm
Lisa Lavagetto has been cooking for  35 years  with a first generation Italian family both in catering and restaurant on the East Coast. In the Bay Area, Lisa has worked for Insalatas in San Anselmo and several prominent caterers. At Ramekins for 14 years, Lisa has worked many positions and is currently teaching, catering and overseeing Ramekins' Culinary School. Chef Lisa Lavagetto won five double golds, a gold medal, two silvers, and Best of Show in the Santa Rosa Harvest Fair's professional food competition in 2009.
Lisa offers three hands-on culinary experiences, 3.5 hours each, during which you will enjoy preparing your own meal along with fellow cooks. Classes take place at our culinary center, La Cocina Que Canta. For more information and registration, please click here.