Back to Main Calendar
¡Fiesta de La Cocina Que Canta! | Culinary Week
Description:
Culinary Week | ¡Fiesta de La Cocina Que Canta!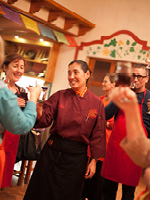 "We've got to get ourselves back to the garden..." wrote Joni Mitchell in her famous lyrics for "Woodstock," and once again we invite you to join us for an incredible week of cooking and camaraderie with some of the great chefs in the land.
It all takes place at The Kitchen That Sings (La Cocina Que Canta), our culinary center in the midst of our organic farm, Tres Estrellas.
The week will feature classes from the Frey Winery family and will include hands-on cooking, gardening, cheese making, fermentation, a wine country tour, a tasting of Frey's organic wines at the Ranch plus dinner at El Lugar De Nos (Tecate's hottest new restaurant), and more…
Culinary Week Package $495 per person + tax
Click here to learn more about our Cooking School and Culinary Center.
*Space is limited.