Back to Main Calendar
Culinary Experiences at La Cocina Que Canta | Denise and Meadow Linn
Description: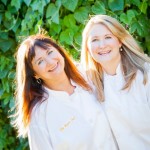 Denise Linn (pictured at left), the best-selling author of 17 books, including Sacred Space and Soul Coaching®, is an international lecturer, a healer, and a popular radio talk-show host. She is the founder of the International Institute of Soul Coaching®, a professional certification course, as well as the founder of Interior Alignment®. Denise holds seminars on ­five continents and appears on television and radio programs throughout the world.
Denise and her daughter, Meadow, have recently teamed up to write The Mystic Cookbook: The Secret Alchemy of Food in which Denise blends her knowledge of native cultures with her background in past lives and energy work to show how eating can, indeed, be a sacred act. Denise lives on the Central Coast of California with her husband, goats, chickens, dogs, and beloved cat.
Website: www.DeniseLinn.com
Meadow Linn is an accomplished chef who's been sharing her love of food since she was old enough to crawl into the cupboards. She teaches cooking both in the USA and internationally and is the co-founder of The Mystic Chef® culinary training.
With her mother, Meadow co-authored two Hay House books, Quest and The Mystic Cookbook, which inspired a keynote address to 2,000 people about the secret alchemy of food. Meadow is a passionate photographer, and her photos have won awards at both the state and national level.
She writes a column in a Seattle newspaper and contributes regularly to InSpirit Magazine in Australia. Her popular blog (www.savortheday.com) is filled with delicious recipes, beautiful photos, and scrumptious stories about life, love, and living well.
Meadow lives on the Central Coast of California where she enjoys writing, tending her vegetable garden, and cuddling with her dog, cats, and chickens.
Website: www.MeadowLinn.com  * Blog: www.SavorTheDay.com
Denise and Meadow Linn offer three hands-on culinary experiences, 3.5 hours each, during which you will enjoy preparing your own meal along with fellow cooks.
In these experiential classes, learn why the exact same meal with the exact same ingredients can taste mundane one time and fantastic another time. As you learn to make delicious new recipes with simple and fresh ingredients, you'll also discover little-known secrets about how the color of the food you prepare, your kitchen feng shui, and the art of placement in your table settings can greatly impact the flavor and experience of your meals. In addition, learn how to create gluten-free dishes that are easy to make and taste amazing! Travel the globe during your hands-on class at La Cocina Que Canta. Through your palate we'll go on a culinary journey through Asia, trek across the Sahara, or wander into a colorful garden in Baja as we go from nourishment to nirvana!
Classes take place at our culinary center, La Cocina Que Canta. For more information and registration, please click here.