Back to Main Calendar
Modern Family: Lessons from the Rest of Life | Dr. Rick Grosberg
Description:
Ranch Nature Treasure Hunt
Sunday 9:00 am
Modern Family:  Lessons from the Rest of Life
Sunday 8:00 pm
Everyone knows that families are a universal arena in which conflicts of interest can often arise between males and females, parents and offspring, and siblings.  Within many animal species, family members may often die for each other, but given the right circumstances, they will also kill each other! What are the rules of nature that govern whether individuals should harm or help each other?  Dr. Grosberg presents the basic evolutionary foundations for answering this question, and explores how other organisms (not humans!) behave toward their mates, their parents, and their siblings.  And then there's us people. What can we learn from the rest of life about sibling squabbles, teen rebellion, blended families, and other dilemmas of the modern family?
The Birds and the Bees and the Flowers and the Trees: A Morning Walk with an Evolutionist
Tuesday and Wednesday 7:00 am
Becoming a Scientist: Finding the Questions, Not the Answers
Tuesday 5:00 pm
A talk for families (especially kids who think science is "boring"!!) about science as a  voyage of discovery and a quest to find the questions that help us understand the world we live in.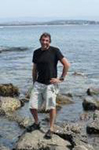 Rick Grosberg is an evolutionary biologist and senior professor at UC Davis, where he is the Director of the Coastal Marine Sciences Institute. A Fellow of the California Academy of Sciences and the winner of the UC Davis Prize, one of the nation's most prestigious academic teaching awards, Dr. Grosberg is known both for his groundbreaking research and for his engaging and charismatic teaching style, which connects history, science and personal narrative in a unique way. He is frequently heard on national programs such as NPR's Science Friday, and his work has been featured in publications such as Scientific American, The New York Times, Science and the Huffington Post.