Back to Main Calendar
Culinary Experiences at La Cocina Que Canta | Visiting Teacher Romney "Nani" Steele
Description: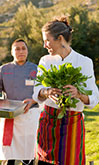 Romney Steele is a writer, cook, visual artist, teacher, and the author of My Nepenthe: Bohemian Tales of Food, Family, and Big Sur (2009), and Plum Gorgeous: Recipes and Memories from the Orchard (2011). As the granddaughter of Bill and Lolly Fassett, founders of Nepenthe Restaurant in Big Sur, she grew up at the family business and opened Cafe Kevah, located on the grounds of the property.
Romney has worked as a chef, freelance writer, food stylist, cookbook author and cooking teacher for at risk youth. As a teacher, she promotes creativity and fearlessness in the kitchen by encouraging students to follow their intuition and use all of their senses.  She is also the co-owner of The Cook and Her Farmer, a cafe, oyster and wine bar recently opened in the historic area of Oakland, California that celebrates gathering around the table for honest foods. Part of its mission is to nurture the growth of future cooks and farmers.
On the Web: www.romneysteele.com and www.thecookandherfarmer.com
Romney offers two hands-on culinary experiences, 3.5 hours each, during which you will enjoy preparing your own meal along with fellow cooks. Classes take place at La Cocina Que Canta, our culinary center on Tuesday and Thursday at 4pm. For more information and registration, please click here.