Back to Main Calendar
Culinary Experiences at La Cocina Que Canta | Visiting Teacher Joanna Pruess
Description: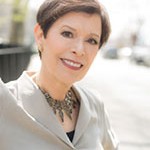 Joanna Pruess is an award-winning author of 14 cookbooks, including Soup For Two: Small-Batch Recipes for One, Two, or a Few; Harney & Sons' The Tea Cookbook; her Cast-Iron Cookbook: Simple and Delicious Comfort Food; and Seduced by Bacon: Recipes and Lore about America's Favorite Indulgence. She is a contributor to PBS' NextAvenue.org (an online magazine for "boomers") and has written extensively on food for publications including The New York Times Sunday Magazine, Washington Post, Food Arts, Saveur, Fine Cooking, Food & Wine and the Associated Press syndicate. Pruess has spoken about food and cultural anthropology at The Smithsonian Museum in Washington, DC, on board the Crystal Serenity, and at many venues in Turkey and America.
For 25 years, Ms. Pruess has been regular contributor to NASFT's Specialty Foods Magazine and taught seminars about standardizing recipes. She has developed recipes for clients including Bella Cucina Artful Food, Stonewall Kitchen, and Sarabeth's Kitchen. The creator and first director of the Cookingstudio, a cooking school within Kings Super Market, in New Jersey, she had more than 15,000 students in five years. Among the many classes she personally taught were those created for students with visual or hearing impairments, and those with learning disabilities. She appeared regularly of WYNY's "Good Day, New York" and was honored by NYU's School of Food Service as the Woman of the Year in Food Service, Merchandising and Promotion. She lives in New York City.
Joanna offers two hands-on culinary experiences, 3.5 hours each, during which you will enjoy preparing your own meal along with fellow cooks. Classes take place at La Cocina Que Canta, our culinary center on Tuesday and Thursday at 4pm. For more information and registration, please click here.