Back to Main Calendar
Explore the Night Sky | Scott Marrone
Description:
Explore the July Night Sky: A Slide Presentation
Saturday, 8:00pm
The dark skies at the Ranch provide a fabulous opportunity for seeing wonders such as the Milky Way, Ptolemy cluster (a collection of 80 stars scintillating like diamonds), meteors, satellites, Saturn and its rings, the Lagoon nebula (a stellar nursery), and more!
Participate in another magical part of the Ranch experience.  You will never look at the night sky the same way again.
Explore the July Night Sky: View Rancho La Puerta's beautiful skies with binoculars and telescope
Sun, T, 9:00pm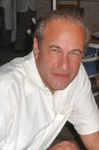 John Scott Marrone has over 30 years experience teaching in the New York area. In addition to Astronomy, Scott teaches Forensics, Environmental Studies and Oceanography. He has been recognized by Ciba-Geigy Corporation for work in promoting science literacy and received the Outstanding Teacher of the Year Award in 2007 from Manhattan College. In February 1998, Scott was invited by the Aruban Government to substitute for astronomer Jay Pasachoff to lead the observing of the total solar eclipse. Scott's interests include music, scuba diving, martial arts and travel. He has directed theatre, and conducted orchestras and choruses, including the Oratorio Society of New York, Greenwich Choral Society and English Chamber Orchestra throughout Europe.
Concert with Scott Marrone
Th, 8:00pm