Back to Main Calendar
Self-Defense for Children and Teens | André Salvage
Description:
Being a father of seven children, André Salvage is aware of the concerns parent and children have for their personal safety. In a safe fun environment, without instilling fear and with age appropriate information André and his team will share vital  information necessary to stop potential assaults. This is done with the knowledge of three important skills: the awareness to avoid dangerous situations, assertiveness skills to handle predatory behavior and the hand on training to stop someone from harming you.
Teen Self Defense and Life Skills Class
Have you ever felt threatened or pressured to do something you really didn't want to? Have you ever been in a situation where you wanted to say something, but kept quiet? Have you found yourself in a situation you didn't feel safe or been hurt by someone you thought you could trust? If yes, or if you want to make sure you have the skills in case this does ever happen to you, take this class. It's not like the usual lectures you get at school. In this class you will learn how to protect yourself not only with words, but also physically. You will get a chance to practice powerful, yet simple fighting techniques against a trained heavy padded attacker and you will leave knowing you can protect yourself – guaranteed.
Children and Pre-Teen Assertiveness and Safety Class
Have you ever been picked on or seen your friends getting harassed? Want to learn some quick skills to defend yourself? In this class, Andre Salvage will teach ways to speak up when you want to as well as use your hands and feet to stop anyone who might be trying to hurt you, whether an older person or someone your age. Here's the fun part…you get to do this against someone who will have on heavy pads on all over their body so you can practice slow, fast or hard. Know one has the right to make you feel uncomfortable or harm you. If they do, you have to right to run away, say something or defend yourself—and this class will show you how.
Note to parents:
Being a father of seven children, I am aware of the safety concerns that parents have for their children in today's society. The fact is that as much as we would like to be with our children to protect them and help them make the difficult decisions that will confront them, we can't be there all the time.
Children can be  verbally and physically abused by adults as well as by their peers. These workshops will not cause young children or teens to become scared or paranoid, but rather become objectively aware of the dangers that exist and give them real life tools to handle, avoid, control or stop threatening situations with those who want to harm them.
All of the skills, principles and lessons are easy to learn, fun and age appropriate.
Staying Connected to your Children: For Safety and Healthy Parenting
This lecture is designed for parents of children of all ages in which I share tools and principles that parents can apply to help children and teens make safe decisions, help them avoid harm and, most importantly, stay connected.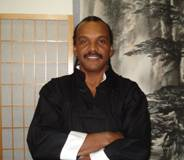 Born in the crime-ridden neighborhood of South Central Los Angeles, Master André Salvage successfully moved beyond becoming a product of his environment. He combined the practical knowledge and survival savvy of a former street fighter with the deep understanding and wisdom of a compassionate teacher. Mr. Salvage's background, natural ability, sensitivity, has helped him create an effective, easy-to-learn safety programs for people of all ages. Since 1979, he has worked with thousands of adults, schools and companies sharing the skills necessary for personal, mindful communication, conflict resolution, self-worth, and stress reduction. www.andresalvage.com