Back to Main Calendar
Off the Mat: Using Yoga Principles at Work | Maren Showkeir and Jamie Showkeir
Description: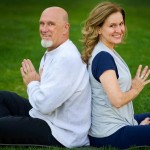 Off the Mat: Using Yoga Principles at Work for Satisfaction, Success, and Sanity
Sunday 8 pm
In Western culture, most people think of yoga as doing physical postures (asanas) in a gym, studio, or at home. Yoga is actually much more complex. Its rich philosophy and guiding principles were outlined thousands of years ago by the Indian sage Patanjali in the Yoga Sutras. While the postures are beautiful and beneficial, they represent only one of yoga's 8 Limbs.
Combining lessons from our long-time practices with our expertise as workplace consultants, we filter the 8 Limbs of Yoga through the lens of your 9 to 5. Using relevant, everyday language, we show how this ancient wisdom applies to modern work — where people typically spend more than 50 percent of their time.
Yoga's other practices do for your mind what the physical postures do for your body — develop focus, strength, stability, and flexibility. Practicing yogic principles can help you get clearer about what true success is — making a worthy contribution and serving people. Yoga offers a menu of pragmatic practices that are useful at work, including an ethical framework and a guide to self-development that can help you recognize and cultivate your vast potential.
While we may incorporate some light stretching and body movement into the workshops, this will not be focusing on a physical practice and no yoga experience is required. The focus is on helping people understand some of the intricacies and nuances of this rich spiritual tradition in the context of the work environment. It will include practical ways to integrate its time-tested precepts into daily work life by mindfully developing personal practices.
Evening overview: Our story and the connection to writing the book. We will present a high-level overview of the 8 Limbs and how they connect to work using stories from people who have used these principles to keep them sane on the job. We have stories from all professions such as school teachers, CEOs, a police officer, doctors and other healthcare workers, and more.
Follow-up Session One:  Breathe! (Pranayama, Limb Four)
Monday 1:00 pm
You don't have to think about breathing — it is instinctual. But by using yogic techniques to harness the power of the breath, you can learn to alter your moods, increase energy, mitigate mental distress, foster patience, enhance focus, and heighten clarity. Using pranayama techniques can also be a wonderful tool in helping you practice some of the other limbs of yoga. This follow-up will include demonstration and practice of several pranayama techniques that can be used in the context of the workplace.
Follow-up Session Two:  Universal Morality (the Yamas, Limb One) 
Tuesday 1:00 pm
Comprised of five simple precepts, the yamas are framed as the "do-nots" in life's list of the moral "do's and don'ts." They include non-violence, non-lying, non-stealing, non-squandering of vital energies, and non-greed. These practices are touched on in almost all spiritual and cultural traditions throughout the world.
Follow-up Session Three:  A Personal Code of Conduct (the Niyamas, Limb Two)
Wednesday, 1:00 pm
Also comprised of five precepts, these guiding principles help you minimize the external distractions that become obstacles to developing your full potential — and block you from recognizing that same potential in others. The niyamas include purity, contentment, discipline, self-study, and surrender.
Follow-up Session Four:  Mental Training Camp (Limbs Five, Six and Seven)
Thursday, 1:00 pm
These three limbs deal with training the mind in the same way we strengthen our bodies through physical exercise, and increase intellectual capacity by acquiring skills and knowledge.  The practices associated with these limbs are sense withdrawal (pratyahara), focus (dharana) and meditation (dhyana). These practices train your mind to filter out productivity-killing distractions. Scientific research has documented the benefits of meditation, including increasing the brain's neural pathways that govern compassion, self-awareness, and memory, as well as easing depression and controlling anger.
Maren Showkeir: As a writer, teacher and yogini, Maren's work is dedicated to helping individuals and organizations unleash their full potentials. Her curiosity and passion for writing fueled her first career in newspaper journalism, in which she had extraordinary experiences for 20-plus years and managed to exit in the nick of time. In 2005, she became a managing partner at henning-showkeir & associates, inc., where she has collaborated with people in all types and sizes of organizations managing complex organizational change. She and her husband are accomplished speakers and presenters, and are committed to helping people discover how yoga's philosophy (not just the physical practice) can help them develop their potential and transform their work life. Maren earned a BA in journalism from Arizona State University and a MA in Human and Organization Development at Fielding Graduate University.  She is the co-author with her husband, Jamie, of "Yoga Wisdom at Work: Finding Sanity Off the Mat and On the Job" (Berrett-Koehler, 2013), which filters the ancient philosophy of the Eight Limbs of Yoga through the lens of the modern work experience.
Jamie Showkeir: By family tradition and personal passion, learning has always been a calling for Jamie. It has played a pivotal role in his life and profession from his early days as a high school teacher and football coach to his current work with those seeking to realize their potential and transform their organizations. He is co-author with his wife, Maren, of "Authentic Conversations: Moving from Manipulation to Truth and Commitment" (Berrett-Koehler, 2008). Jamie is co-founder and owner of henning-showkeir & associates, inc., whose client list is extensive and varied. Whether working with educators, executives, business consultants or young people just starting their careers, his aim is to stimulate thinking, encourage people to confront their contributions to difficult issues, and to be personally accountable for the greater good. Jamie earned a BS in education from Miami University, where he was a scholarship athlete. He earned his MA in Educational Leadership from Eastern Michigan University. He has practiced meditation since the 1970s, and began a committed yoga practice in 2005.