Back to Main Calendar
Mindful Yoga | Ann-Marie Ahye
Description: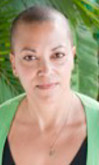 A blend of Yin & Yang Yoga steeped in a mindful approach is what Ann-Marie offers through her teaching. She warmly infuses her craft with a harmonious blend of energy, which instills a grounded tranquility and ease of being. While respecting form, she feels a strong impulse to cultivate feeling awareness.
Such maturing awareness in time fosters self-understanding, sharpens discernment and renders a quality of effort that stems from a heart-centered intelligence. Ann-Marie's teacher training in Toronto gave her a foundation in technique. Her more recent training with Sarah Powers has validated her original intent towards a wisdom approach to practice. A quietly passionate Yoga & Meditation teacher, Ann- Marie has been inspired and transformed by over 20 years of Yoga Sadhana. She credits her ability to teach the deeper meaning of yoga to her ongoing self-inquiry and experiential learning.
Ann-Marie lives and teaches Yoga & Meditation in Toronto. She leads Workshops and Retreats in Canada, and the Caribbean. She has created a 'Mindful Yoga' DVD and a Guided Relaxation CD, 'Travelling Inward'. Further, Ann-Marie practices Energy Balancing. Whatever she shares is offered so as to restore harmony to body, mind and heart. Her approach towards each modality as towards life, is a Mindful one. Join Ann-Marie at the Ranch and explore the Power of Presence.
Join Ann-Marie for her eighth annual return to the Ranch and embrace your power.
On the Web: www.energeticpresence.com