Back to Main Calendar
Healing Gardens | Valerie Easton
Description: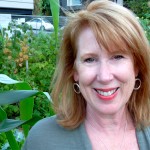 How to Create a Healing Garden at Home 
Tuesday 8 pm
Seattle Times weekly garden columnist Valerie Easton will talk about how to boost your garden's restorative power. It's not just being in nature that heals and enlivens us—it's the day-to-day intimacy with our gardens that rejuvenates our souls.  A look at color, organic practices, growing fresh food, fragrance, and attracting wildlife helps determine what is most healing and beneficial to our families and to our lives, with examples from the many healing elements in the gardens at Rancho La Puerta.
Walk and Talk
Wednesday 4 pm
We'll explore the cultivated gardens at the Ranch, and Valerie will answer questions about specific plants and design elements, and point out healing elements you can incorporate in your home gardens wherever you live.
Save Your Back, Love Your Garden Design Workshop
Thursday 5 pm
Bring your gardening dilemmas to this workshop, and we'll figure out how to solve them. Valerie will answer your gardening questions while offering strategies to reduce maintenance while making your garden more personal, healing, beautiful and productive.
Valerie Easton is a weekly garden columnist and feature writer for the Sunday magazine of the Seattle Times. She writes about the region's most creative gardens and homes, as well as flower arranging from the garden, color, design, food gardening, organics, and permaculture. She lectures and writes on how to make a productive, beautiful and healing garden without it taking too much of your time, energy, or the earth's resources.
Her own little garden on Whidbey Island has been published in The New York Times, Horticulture, and This Old House. She writes regularly about gardens and the people who make them for numerous publications, including Dwell, Gardenista, Organic Gardening, and Garden Design magazines and blogs.  She also interviews notable people about their favorite books and reading lives in her monthly "Book City" column for Crosscut.com.
Val is the author of five gardening books, including "The New Low Maintenance Garden," which was chosen by Amazon.com as one of the Ten Best Home and Garden Books for 2009.  This book began as the story of downsizing her own island garden, then expanded to include gardeners around the country dedicated to making their garden as sustainable and easy to care for as possible while still growing the plants they love.
Val is a lifelong gardener, a master gardener, and was a horticultural librarian at the University of Washington for twenty years before she left to write full time. She's a popular speaker, and has traveled on Horticulture magazine's lecture circuit, recently spoke at Whidbey Island's WOW (Women on Whidbey) event, and will deliver the Miller Lecture next fall in Seattle.
Valerie blogs at Plant Talk (www.valeaston.com)  and her latest book is "Petal & Twig" about arranging fresh flowers from the garden; she's working on a new book on healing gardens. She lives with her husband and wheaten terrier Bridget in Seattle and on Whidbey Island, where she owns Half Moon Yoga Studio, and teaches classes most days of the week.