Back to Main Calendar
The Great Mexican Muralists | Diane Arkin
Description:
The Great Mexican Muralists
Join Diane Arkin to explore, discover and discuss the extraordinary cultural and artistic legacy of Mexico.
The Power Of Women Artists Of Mexico
Enjoying Modern Art. Modern Art can baffle, challenge, irritate, and delight us. By throwing away past traditions, artists like Gauguin, Picasso, Matisse, Duchamp, Miro, Pollock, Rauschenberg and Warhol experimented with new ideas and materials to revolutionize the art experience. Join Diane Arkin for a session of careful looking and lively discussion aimed at discovering, exploring, and enjoying modern art.
 Frida Kahlo: Video and discussion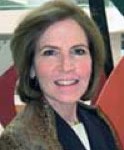 Diane Arkin is currently Senior Lecturer at The National Gallery of Art in Washington, DC, where she provides scholarly and entertaining lectures and tours for the public, and trains docents on art from the 13th century to the present. She also lectures nationally on museum education, trends in theory and practice, active learning strategies, and museums as unique learning environments. Prior to coming to The National Gallery of Art, Diane served as Curator of Education at the Corcoran Gallery of Art and College of Art and Design in Washington, DC, and as Director of Education at The Walters Art Museum in Baltimore. In addition, Diane's work as a Program Coordinator in both the Resident Associate Program and the International Study Tours division of the Smithsonian Institution included years of lecturing on a broad range of art historical subjects, both domestically and internationally. Before entering the museum field, Diane had an active career as an academic. She was Assistant Professor of Art History at George Mason University and at The University of Colorado, and also taught extensively throughout the Washington, DC area.