Back to Main Calendar
Sound Body Sound Mind Specialty Week | Susana Moore & Emiliano Campobello
Description:
Restless hearts can find their natural beat as they fall in rhythm with the breath and the mind becomes still. The space between thoughts expands to create room for us to hear our truth in the Divine Silence. Journey with us to expanses of deep relaxation and calm as the tones of the crystal bowls open gateways of awareness and wholeness within you. The tones of these harmonically tuned instruments help to align your physical, emotional and spiritual bodies, balancing and rejuvenating your vital life energies. Join us as we explore the power of vocal toning, mantra chant, the sound of the crystal and Tibetan bowls, gongs and tuning forks.
Sound Body Sound Mind
Monday - Friday at 11:00am in Oaktree
Using the crystal bowls and other instruments, we move through an exploration: sound, breath and stillness mapped through the chakras. From the fiery red earth center to the heavenly realm of the crown center, each chakra has a different teaching and developmental task as we grow and evolve our lives.
Inner Journey Through Sound
Monday- Friday at 4:00pm in Oaktree
In this Sound meditation you are invited to explore various aspects of your life: belonging, creativity, power, heart radiance, life visioning, receiving your own inner guidance, and connecting to the greater cosmos.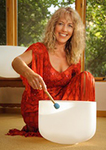 Susana Moore is a Soul Coach, Past Life Regression Therapist, Tarot Reader and is the Contemplative Programs Coordinator at Rancho La Puerta spa, where she teaches Sound Healing, Soul Motion™, yoga and meditation. Susana's background includes meditation training with Deepak Chopra and Jon Kabat-Zinn, Soul Coaching certification with Denise Linn, movement with Gabrielle Roth and Vinn Arjuna Marti (5 Rhythms and Soul Motion™) and aquatic bodywork (WATSU®) with its creator, Harold Dull. She is a member of the International Sound Healers Association.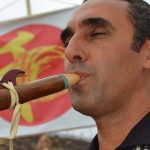 Emiliano Campobello plays Native American flutes, Anasazi flutes, Japanese bamboo shakuhachi, East Indian bansuri, and other ethnic flutes that connect with the spirit of ancient cultures. Emiliano is a professional designer and muralist, and has devoted his life to creating artwork that uplifts the soul and brings beauty to life.
 For over 20 years, he has conjured magical spaces and sanctuaries designed to comfort, nurture, inspire and embrace. Emiliano has had the honor of playing at the request of shamans and spiritual teachers from around the world. He has been blessed to play at events and ceremonies honoring the Navajo, Chumash, Hopi, Inka, Tibetan, Japanese, Chinese, Maya, Toltec & Lakota teachings and traditions. Learn more at sacredwindsmusic.com.