Back to Main Calendar
Pilates | Amber Zuckswert
Description: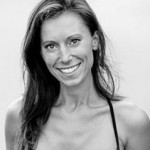 Amber Zuckswert is the founder of The Center for Epic Living in Manuel Antonio, Costa Rica. She's an internationally recognized online/live pilates and yoga instructor, professional contemporary dancer, and holistic nutritionist from San Francisco, CA. As a contemporary ballet/modern dancer with over 24 years of technique, performance and teaching under her belt, Amber turned to the Pilates method to stay in peak mind/body condition and injury free. Since graduating from the rigorous and renowned Ron Fletcher Program of Study she's worked with a vast array of clients from professional dancers and athletes, to pre and post natal, to rehab. Amber specializes in back care and peak performance training.
Amber brings an energetic, creative, fun and fluid approach to classes and private sessions. Focus on breath, precision, and mindfulness, infuse each session. Building a balanced, toned and pain free body while challenging the mind with breath and body coordination, dynamics, balance and grace is her forte. She uses everything in her extensive tool kit of pilates, yoga and dance techniques to keep her students moving one exercise to the next while weaving in cues and corrections. She adores seeing the positive changes of strength, flexibility and awareness in her students. Amber loves nothing more than empowering others to create their most epic self and lifestyle through mindful movement, meditation and peak performance nutrition.
Explore the depth of her passionate work in person this week. Discover her online coaching programs, upcoming workshops, and wellness retreats with experts from all over the world by visiting: www.epiclivingcenter.com and www.epicself.com.