Back to Main Calendar
Feldenkrais® | Aliza Stewart
Description:
First class: Alleviate and Prevent Pain and Injury
Second class: Reclaiming Youthful Mobility and Flexibility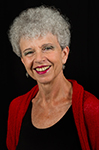 Aliza Stewart is a Feldenkrais® practitioner with over 28 years of experience. She is aFeldenkrais® Guild Certified Trainer, and trains teachers at the Feldenkrais Institute of New York, The Feldenkrais Training in Baltimore and other training schools on the West Coast, Europe, Israel and Brazil. She has a private practice where she sees clients in New York City and Baltimore, MD.
Aliza has presented classes and workshops at many institutions including Johns Hopkins University, T. Rowe Price, The Maryland Medical and Chirurgical Society, The Multiple Sclerosis Society of Maryland, George Mason University and University of Maryland Medical School.
Originally trained as a concert pianist, Ms. Stewart has a great affinity for the needs and concerns of performers. She has taught classes and given workshops at music schools and festivals, including The Juilliard School, The Mannes School of Music and Vienna University in Austria.
Ms. Stewart also uses theFeldenkrais® Method on children with various challenges. She often works in conjunction with physicians, physical therapists, and mental health professionals.