Back to Main Calendar
GYROKINESIS® | Diane Daniel
Description:
GYROKINESIS®
S, M, T, W, Th & F, 11:00am, 45 min.
GYROKINESIS®
S, M, T, W, & Th,  3:00pm, 45 min.
GYROKINESIS® exercise is a complete movement system, for all levels and ages, and can be applied to a variety of situations, as one needs very little equipment. It incorporates many key principles from yoga, dance, gymnastics and Tai Chi. The class begins with the practitioner seated on a low stool and begins with simple breathing patterns to awaken the body. He or she mobilizes the spine and joints through a series of arching, curling and spiraling movements. The corresponding breathing patterns in every movement help to stimulate the nervous system and open up energy pathways. Rhythm, movement, & breath are the key elements of this system accessible for all fitness levels.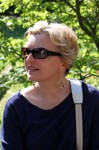 Diane Daniel trained as a classical dancer at the Hammond School in the UK. She spent over 15 years as a professional dancer in Israel (The Israel Ballet) and Germany (Ballet Krefeld-Mönchengladbach, Tanztheater Heidelberg, Tanztheater Munster, and Tanztheater Freiburg). She is a certified Pilates, GYROTONIC® and GYROKINESIS® exercise instructor. Diane has worked with Alan Herdman at one of London's most reputable Pilates studios. She also studied with Juliu Horvath in Germany for her GYROTONIC® exercise certification. She is a pre-trainer in the GYROTONIC® exercise system and continues her education in Seattle with master trainers Karen Mullen and Magali Messac. Diane has her own private studio in Vancouver where she is now based.