Back to Main Calendar
GYROKINESIS® | Alicia Head
Description:
GYROKINESIS®
S, M, T, W, Th & F, 11:00am, 75 min.
GYROKINESIS®
S, M, T, W, Th, 3:00pm, 45 min.
GYROKINESIS® exercise is a complete movement system, for all levels and ages, and can be applied to a variety of situations, as one needs very little equipment. It incorporates many key principles from yoga, dance, gymnastics and Tai Chi. The class begins with the practitioner seated on a low stool and begins with simple breathing patterns to awaken the body. He or she mobilizes the spine and joints through a series of arching, curling and spiraling movements. The corresponding breathing patterns in every movement help to stimulate the nervous system and open up energy pathways. Rhythm, movement, & breath are the key elements of this system accessible for all fitness levels.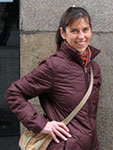 Alicia Head, owner of UP Studio in Long Beach, CA, began her journey into mind-body exercise as an injured dancer studying ballet in San Francisco.
She found the Center for Sports Medicine at St. Francis Memorial Hospital and began studying Pilates with Elizabeth Larkham and Patrice Whiteside. Alicia continued on to become a certified instructor through Marie-Jose Blom and her program at Long Beach Dance Conditioning. A few years later, Ms. Head began studying GYROTONIC® and GYROKINESIS® with Juergen Bamberger, Sebastian Plettenberg and Lisa-Marie Goodwin Rice.
She later became a GYROKINESIS® master trainer and GYROTONIC® pre-trainer. Recently, Ms. Head has also completed master trainer courses with Juliu Horvath for the Jumping Stretching Board and the Archway. Alicia specializes in working with dancers, leads teacher training courses in GYROKINESIS® and teaches for the Long Beach Dance Conditioning Teacher Training program.