Back to Main Calendar
Creating Healthy Organizing Habits | Melissa Stacey
Description:
Creating Healthy Organizing Habits
Feeling overwhelmed by the thought of getting organized? You're not alone! In this workshop, you will learn about the impact of disorganization, common stumbling blocks, how emotions affect decisions and simple steps to get you started on your organizing path.
Creating Organizing Systems for YOU
There is not one perfect organizing technique that works for everyone. The key is figuring out what systems works best for you and your needs. In this session, Melissa will share her favorite, easy to implement, organizing and productivity systems for the most common clutter issues.
New Systems, New Habits
Creating new organizing systems means creating new healthy organizing habits. In this session, Melissa will share successful practices on building new habits, as well as accountability tactics to incorporate into your daily life.
Celebrate Your Organizing Successes!
Take time to celebrate every organizing success, big AND small! Acknowledging your accomplishments will build confidence and fuel you to continue on with your organizing goals. Come learn what success look like to you and how to celebrate each step of your journey.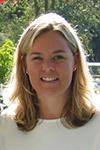 Melissa Stacey started her company, Feeling Organized, because she wanted to find a way to combine her natural talents for organization and planning with her passion for helping people. Through Feeling Organized she has been able to use these skills to help her clients find creative solutions to their business and personal organizing challenges while also creating a successful small business and a fulfilling career. Melissa specializes in organization for your home, office and small business. She works with each client to create a unique organizing system that is geared toward their specific needs, lifestyle and/or work style. Some of Melissa's expertise includes filing systems, paper management, closet spaces, offices, workflow and Operation Manuals. She is also the co-author of Get Organized Today.
On the Web: www.feelingorganized.com