Back to Main Calendar
The Mindful Home: Aging in Place | Annie Groer
Description:
Focus on the Village Movement
Tuesday, 1:00pm
Exploring other ways to facilitate aging in place
Wednesday, 1:00pm
We all know about New York's Greenwich Village and Hillary Clinton's "It Takes A Village." But as we—or our parents--get older, maybe the most important is Boston's "Beacon Hill Village" founded in 2001 by seniors intent on stay in their homes. Also known as "aging in place," the movement has grown to some 90 villages nationwide with another 120 in the pipeline. These hyper-local networks cost a few hundred dollars a year to join, are often run by a paid professional and provide many services, from info about retrofitting homes for easier mobility to vetting contractors to do the work. They organize volunteers to take folks to the doctor or supermarket, and arrange local outings and group trips. Beacon Hill is even evolving into what its director calls "purposeful engagement" to get seniors out the door and active in the community. But Villages are just one piece of a larger picture. Local officials are changing zoning and occupancy laws to allow communal living, creative additions and freestanding backyard "Granny Flats" containing such features as high-tech monitoring and soft flooring to reduce slip-and-fall injuries. Architects and builders are refining universal design so everyone—old, young, able bodied and disabled—can thrive at home. And since the Recession has forced a growing number of multi-generation families into one home, people are crafting new strategies so everyone retains some privacy, dignity and sanity in close quarters.
Annie Groer will direct lively discussions and provide detailed resource lists.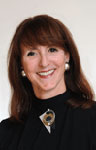 Annie Groer has explored these subjects for nearly ten years, both as a Washington Post reporter and the daughter of a fiercely independent father who lived alone until he was 99. She also writes about architecture, design and décor for several publications such as the New York Times, Washingtonian, the Post, etc. Recently she has been a panelist debating the future of the US furniture industry at Virginia's Artisphere and was interviewed about contemporary design for her local NPR station. She has also spent time with officials from several DC Villages and have begun modifying her own apartment so she can live there "'til I'm carried out, feet first".