Back to Main Calendar
Herbs | Rosemary Gladstar
Description:
Medicinal Herbs for Beginners
Learn to use herbs that you can easily grow in your gardens and back yards for health and well-being. Learn to make simple home remedies for those common health concerns. In this fun, practical and hands on workshop, Rosemary will share her favorite herbal recipes and remedies. We'll gather herbs from the garden, and learn to make salves, tinctures, herbal oils and other favorite home health care recipes. We'll also discuss safety issues and herb/drug interaction, and cover favorite herbal books, references and Internet resources. Recipes, handouts, and samples will be shared.
Herbs for Family Health
Everyone one in the family from infant to elder can benefit from the health giving properties of herbs. In this practical and informative workshop we'll discuss
• Creating an herbal apothecary for your home
• 10 popular herbs and their uses
• Popular remedies for health and well-being.
• Safety issues concerning herbs
• Herb and Drug interaction
• Books and References to guide you in your herbal studies
We'll also look at kitchen medicine and local back yard remedies, how to prepare herbs, and discuss the importance of ecological herbalism - herbalism with a future. Workshop will include a slide presentation, handouts, and a demonstration on preparing herbs for family use.
Adaptogens and Tonic Herbs
Experience well-being and celebrate every stage of life.
Using herbs and simple common sense practices, you can restore and maintain vitality - whatever your age. We'll discuss herbs used around the world that have earned a reputation for improving and maintaining energy, vitally and health. Special considerations concerning those in their 'sageing years' will be addressed including herbs for improving eyesight, digestion, bone health, and sexual well-being. Favorite herbs and recipes for longevity and well-being will be shared.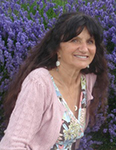 Rosemary Gladstar is a pioneer in the herbal movement and has been called the 'godmother of American Herbalism'. She began 40 years ago developing herbal formulas in her herb shop, Rosemary's Garden in Sonoma County, California. She is the founder of the California School of Herbal Studies, the oldest running herb school in the United States, author of The Science and Art of Herbalism home study course, and is the organizer of the International Herb Symposium and The New England Women's Herbal Conference held annually in NE. She is the author of numerous herb books including the best seller Herbal Healing for Women, The Storey Book Herbal Healing Series, The Family Herbal, and the Science and Art of Herbalism, an extensive home study course. Rosemary is also the co-founder of Traditional Medicinal Tea Company and did all of the original formulations for the company. She has taught extensively throughout the United States and worldwide at venues as varied as backyard gardens, native villages, garden clubs to universities and hospitals. She has won numerous awards and certificates for her work with medicinal plants, but her greatest reward has been in watching the herbal renaissance soar from its birth and feeling in some small exciting way, a part of it. Her greatest passion has been the work of United Plant Savers, a non-profit organization that Rosemary founded in 1994 and is currently president of. UpS is dedicated to the conservation and cultivation of at risk North American medicinal plants and to preserving botanical sanctuaries across the U.S. to help preserve the land that these precious native species thrive on. Rosemary lives and works from her home, Sage Mountain Herbal Retreat Center, a 500 acre botanical preserve in central Vermont.
On the web: sagemountain.com