From our Hands-On Cooking Class, with Visiting Chef David Cohen at La Cocina Que Canta!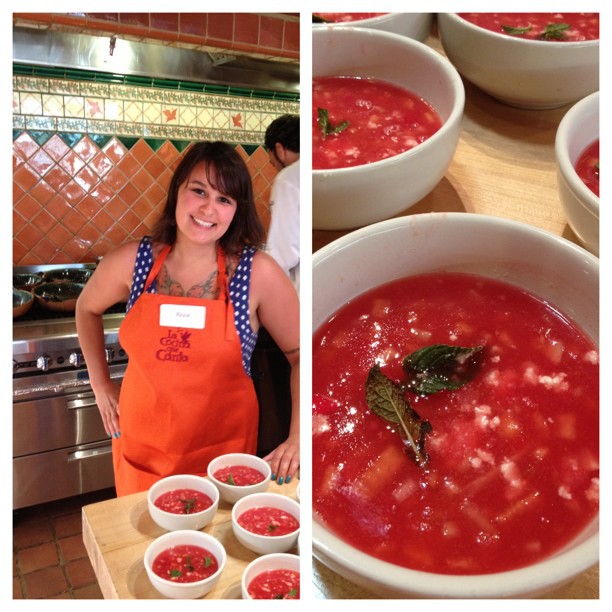 A lovely photo of our guest, Rease Kirchner, during class via Instagram.
Recipe Serves 8
Ingredients:
6 cups cubed and seeded watermelon (approx 3 pounds whole)

4 tablespoons white grape juice
¼ English cucumber peeled and chopped
½ red onion finely chopped
1 red bell pepper cored, seeded and finely chopped
2 cups cantaloupe or other melons finely diced
1 cup cucumber finely diced
½ cup watermelon radish finely diced
4 ounces feta cheese
2-3 tablespoons lime juice
1 tablespoon sherry vinegar
24 fresh baby mint leaves
Directions:
In a blender or food processor combine the watermelon, cucumber (chopped), and grape juice.  Pulse until just blended. (Over processing will lessen the color and sweetness of the soup)

Pour through a sieve.  Press out all the juice.  Discard the pulp.  Save the liquid.
Dice the peppers, onions and cucumber.  Place into liquid along with the vinegar to taste and let chill while completing other cuts.
Complete dicing the cantaloupe, other cucumber and radish.
When ready to serve add the second set of diced items to the liquid.  Ladle 4-6 ounces of soup into the bowl.  Garnish feta and mint leaves.  Serve chilled.
Perfect for a hot summer day!  Enjoy!