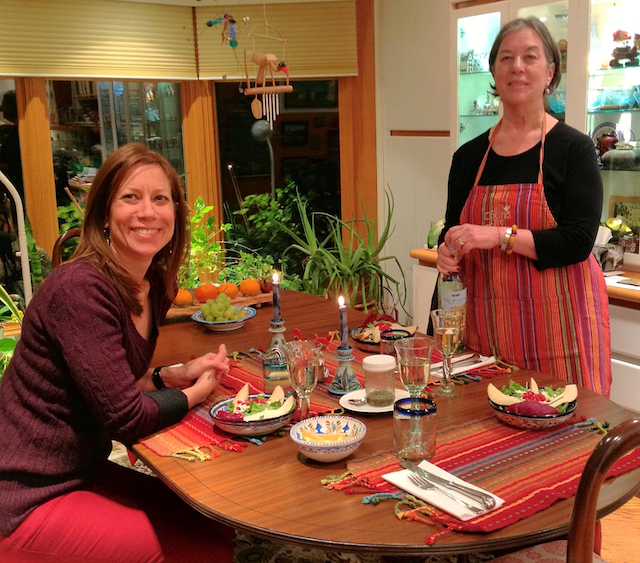 We're honored to share with you a guest post received from Ruth Tamari and Judy and Robert Kanee about their inspiring experience in taking The Ranch home!  A big thank you as well for the lovely photos!
We would like to share how three friends have found a way to experience and share The Ranch at Home on a monthly basis.
When we visited the Ranch together in August 2011 it was Ruth's first time and the Judy and Robert's umpteenth visit. Together we experienced the extraordinary sense of well-being, joy and beauty that the Ranch offers. We left the Ranch wondering:
What could we do to stay committed to our health?
What could we do that would inspire us?
What could we do to experience this sense of wellness?
We realized we could get together and make Ranch meals at home and hopefully experience again the essence of Ranch life. So we dreamed up the plan to connect every four to six weeks for a post-Ranch dinner, and prepare meals that would be beautiful and tasty.
Over the last 25 years, Judy and Robert had collected most of the Ranch's cook books. They proved to be a treasure trove of Ranch recipes as well as collections of Ranch philosophy. This seemed like a good place to throw open the doors to our adventure in search for, "How could we bring the Ranch home?"
We pored over recipes, imagining how they would taste, studying the ingredients and trying to figure out where to buy them in Toronto. Fortunately for us Toronto is a multicultural city with many wonderful ethnic shopping districts where small independent grocery stores supply the culinary needs of a variety of cultural cuisines.
One of our favourite menus that we have repeated is mixed seafood steamed in parchment with shallots and white wine (Cooking with the Seasons at Rancho La Puerta, 2008, pg 45), jicama with red onion and orange salad ending with fresh berries and savoury chocolate for dessert.
As we readied the ʻCucina', we read aloud the recipe instructions, prepped the vegetables, spices and herbs, and frequently reread the steps! Soon the happy, rhythmic sound of chopping filled the kitchen along with our laughter that was quickly followed by more laughing, creating its own special cooking music.
Many of these dishes and ingredients were new to us so there was a learning curve for how long it would take to prepare them. It definitely seemed as though we were doing a lot of chopping!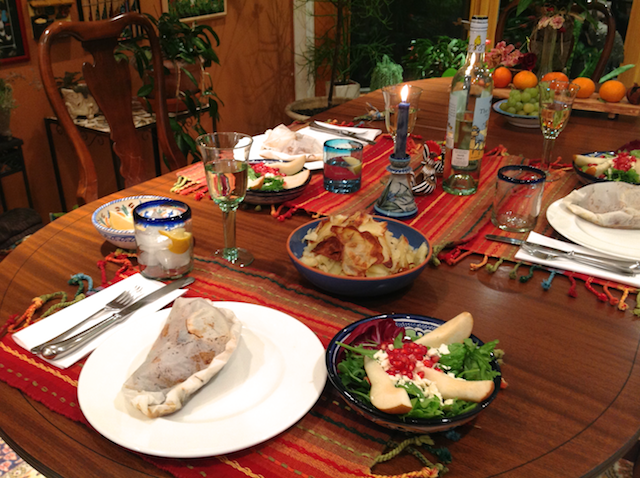 Mixed seafood steamed in parchment, waiting to be savored.
The grand finale was seeing the food laid out on the colorfully decorated table. The moment of satisfaction came when we enjoyed what we had made and were truly grateful for this delicious abundance. A wonderful surprise came to us after the meal when we noticed that we felt pleasantly satisfied and energized. Indeed, we had actually experienced that ʻI-don't-know-how-to-describe Ranch feeling' at home and were inspired to continue our efforts.
The next time we decided to cook the Paella that we had learned how to make when we took a wonderful cooking class in 2011 at La Cocina que Canto from Executive Chef, Denise Roa.
This seemed like it would be straight forward until we got into the depths of the preparation. We had an array of small dishes spread over the counters containing a variety of chopped and diced vegetables. Scrubbed and peeled clams, mussels, shrimp and fish waited with the measured out herbs and spices to add at the appropriate times to the simmering broth. A timing and logistical challenge for the best of cooks!
By now the delicious smell was stirring our appetite to new heights. As a final step, we arranged the olives and slices of roasted red peppers in a lovely pattern on top of the rice and seafood, and the laden pan was put in the oven to finish cooking.
Once again we were not disappointed. As we savoured each bite, we noticed that the fresh ingredients, flavourful herbs and spices, different textures and mouth-watering aromas gave us a lovely satisfied feeling. We discovered that we did not need salt, fat or sugar to make food taste delicious.
We knew this would be fun to do but the best of it, the thing we discovered, was how wonderful we felt after eating and savouring the Ranch-inspired cuisine. It is hard to describe the sense of well-being and satisfaction we consistently experienced after preparing, eating and enjoying these amazing meals.
The friendship, creativity and fun recreated for us an energy, lightness of mood and sense of accomplishment, reminiscent of what we experienced at the Ranch. The holistic eating experience was satisfying on many levels. It reconnected us with our commitment to be conscious of what we are doing to nurture our mind, body and spirit. After many Ranch-inspired dinners we have affirmed this ritual for helping each other bring the Ranch home, until we next return to our special place in the Baja. We've also come to realize that for each of us to flourish and succeed in our wellness goals, we need a network of supports that help us stay committed to our life long quest for good health and well-being.
We hope by sharing our monthly Ranch culinary adventures, we have encouraged other Ranch alumni to explore and share new ways to spread that one week special experience over the remaining 51 weeks of the year. We look forward to hearing your experiences and successes in the quest for Ranch living at home.
Resources:
*The Rancho La Puerta Cookbook by Bill Wavrin, 1998 (we enjoyed reading the inspirational writing on Taking The Ranch Home)
*Vegetarian Spa Cuisine from Rancho La Puerta and Deborah Szekely, 1990 *Cooking with the Seasons at Rancho La Puerta: Recipes from the World Famous Spa by Deborah Szekely and Deborah M. Schneider, 2008 *Favorites From The Ranch Kitchen by The Rancho La Puerta Culinary Team, 2011
Recipes:
*Mexican Coleslaw with Red and Green Cabbage, Jicama, and Cilantro Vinaigrette
*Lasagna Azteca with Spinach and Ancho Chile Salsa
*Grilled Shrimp on Local Melon with Tamarind Sauce
*Black Quinoa Tabbouleh
*Watermelon and Roasted Beet Salad with Fennel and Feta, with Basil Balsamic Dressing
*Baja Fish Tacos with Salsa Bar (Pico De Gallo, Chipotle Lime Sauce, Aztec Guacamole, Mango Salsa)
*Roasted Pear and Arugula Salad with Pomegranate-Chipotle Vinaigrette *Vegetarian Enchiladas
*Jicama Salad with Red Onion and Orange
*Snapper Veracruz