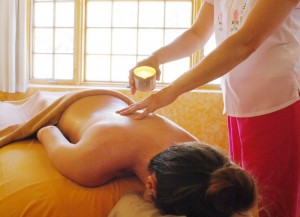 The new signature Head-to-Toe Candle Massage at the Ranch might be the most relaxing massage I've ever had.  "Really?" you ask.  Well, let me explain, and you'll see why.
When I checked in at the lovely Villas Health Center for my massage, the first step was to pick out which scented candle I wanted to use during the treatment.  This was a difficult decision.  Do I go with Orange Lemongrass, Honey Ginger or Coconut Mint?  Or the Lime Bamboo, Lavender Rosewood or Wild Rose?  They all smelled incredible, but it was warm out that particular day, so I decided to go with refreshing Orange Lemongrass.
The highlight of the Head to Toe Candle Massage is the warm oil that is used from the scented candle which is poured directly on your skin and used to as the massage oil.
My therapist was Rosario, who was extremely sweet and nurturing.  The massage started out face down, where she asked me to breath in the scent of the candle.  I couldn't think of a more relaxing way to start the treatment.
Since it's the Head-to-Toe Massage, a lovely head massage was beginning.  Rosario had the magic touch.  She was very gentle and took her time.  It was amazing.  I didn't want her to stop.  But there were too many other wonderful things to get to as well.  From the head to the back to arms and legs…and that was just the first half.
It's hard to pick a favorite part of this massage, but I have to say, I absolutely loved the bed of hot stones.  When it was time to lie on my back, first Rosario had me sit up and she placed two rows of hot stones on the massage table and then covered them with a sheet.  When I lied back down, the warmth from the stones was remarkably comforting, which relaxed me even more.  She also placed hot stones on my stomach as well as my chest so I was enveloped in warmth.  It didn't stop there, the last touch were heated socks to keep my normally cold feet warm.
Now that I was all warmed up, it was time for more therapeutic massage techniques including a facial and scalp massage, then also working down to the arms and legs.  The massage is 90 minutes, so truly nothing felt rushed.
To end the massage on a high note, I was wrapped up in a warm blanket, then the warm socks were removed and the foot massage began.  It was the perfect finish.  Every minute was a delight and I would have it again in a heart beat!