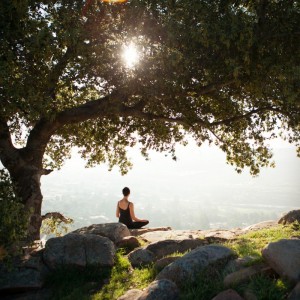 Meditation is one of those fleeting things I know I should do, but it just never seems to happen.  At least for me.  But the times I have practiced meditation, I've felt so much better afterwards.  It calms me down.
Over the last year I have made some major changes for the sake of my health, including adding yoga into my fitness routine.  Yoga helps tremendously in calming the mind.  The next logical thing would be to add meditation to a daily mindfulness practice.   I do it in the morning, some minimal stretch and joint exercises just for a couple minutes.  Also, about ten minutes of meditation if I have time.  But that's the funny part.  Usually I don't think I do and skip it.
So I decided to take the afternoon meditation class offered at the Ranch on a daily basis.  Here's what I learned in order to help start and continue my meditation practice.
Sit in a comfortable position.  I sat on a pillow cross legged.  This seemed to work for me although others in class sat on their knees or even in a chair.  Yvonne recommended sitting in a chair if you're not very flexible.
Sit with a straight back.  This is one of the most important things with your daily meditation practice because it strengthens your spine and helps you breathe properly.  It also helps posture.  Think of a string coming out of the top of your head that can lift you up.  Keep your shoulders back and your chin up as well.  At first this is difficult, but Yvonne assured us that over time it will become easier.
Focus on your breath and breathe with your belly.  If you've done yoga, you're probably already familiar with deep belly breathing.  Your belly should stick out when you inhale and retract on the exhale to obtain the deepest breath.
Don't focus on clearing your mind.  When you first start meditating, clearing your mind is nearly impossible to do, as thoughts seem to pop back up again and again.  This can lead to frustration and a tendency to give up on meditation (I'm sure many of us have been there, right?).  Instead, create imagery to push the thoughts away.  Picture a thought as a dandelion you can blow away or a bubble you can pop, then move on.  I've found focusing on my breathing with a mantra helps.  Or even counting my breaths.  But the most important thing is not to berate yourself for having thoughts while meditating.  It's completely normal!  Just acknowledge it and move on.
The benefits of meditation are enormous.  Especially in the fast-paced world we live in, the ability to calm ourselves through meditation is priceless.  I've personally found that I lower my stress levels significantly with just ten minutes of mediation in the morning.  Yvonne also suggested doing your meditation practice at the same time every day.  This will help make it a habit.  I'm excited to make this a daily practice for myself and share the results with all of you.  Stay tuned…