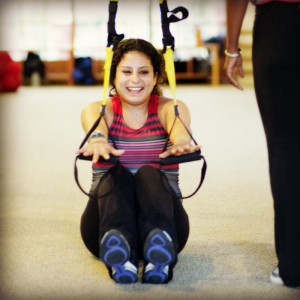 Chances are that if you've been to the Ranch lately, you've met the amazingly inspirational Yoreme Flores.  Yoreme is our Ranch Circle Coordinator and helps guests navigate our many class offerings to get the most out of their stay.  She also heads our online wellness community Ranch Circle.
In this interview you'll learn about Yoreme's incredible transformation since participating in our Employee Wellness Program and her background with the Ranch.  Yoreme's enthusiasm for wellness is contagious and her story is truly inspiring.
Kate Anas:  Can you tell us a little bit about your background and how you got involved with Rancho La Puerta?
Yoreme Flores:  I did all my schooling in San Diego, from kindergarten to high school.  I was pretty tired of commuting into San Diego every day, so I decided to look for a job in Tecate.  It would have to meet a few requirements though, or else I wouldn't make the change. It needed to be close to home of course, have a good average salary (compared to U.S.) and decent work hours. Found something 100 times better, Rancho La Puerta!
KA:  How long have you been working at the Ranch and specifically Ranch Circle?
YF:  It will be nine years soon.  I've been in many areas of the Ranch: telephone operator, bus hostess, front desk, concierge, maitre'd, reservations, spa, etc. And, now I have been with Ranch Circle since March of 2012.
KA:  How do you help our Ranch Circle Members?
YF:  In many ways, our Ranch Circle members see me as their "personal concierge". That opens a world of options. I help them plan their perfect week before arriving, help them get oriented during their stay, be their friend…
KA:  How does the Ranch Circle benefit our guests?
YF:  It allows them to plan ahead, so by the time they get off that bus on Saturday they know what they're doing, have their week mapped out, and are ready to go!  It keeps them in touch with the Ranch throughout the year and gives them access to special member only promotions.  They also get to take a health assessment that will offer recommendations in regards to fitness classes based on their fitness level.
KA:  How has the Ranch's Employee Wellness Program changed your view on health?
YF:  Well, you know, I feel blessed…because of my work duties I am able to participate in both programs; our Employee Wellness & Guest Wellness programs. It is wonderful, just having the opportunity to get a full physical exam on a yearly basis, having a doctor go over the results.  The nutritionist is also "on-top" of us all the time.  She even had the Coca-Cola vending machine replaced with healthier drink options. Simply amazing!
KA:  Can you tell us a little about your journey to leading a healthier lifestyle?
YF:  When I was given the opportunity to work at Rancho La Puerta, almost nine years ago, I promised myself that this would be the beginning of a new life for me and my family, and even more so when I got the opportunity to start off the Ranch Circle program.
I thought to myself, Yoreme, how in the world are you going to make all these people (guests) believe in this computerized program?, so I went ahead and I lived it! I became living proof that it works, and that with just a little effort, a lot sometimes, anyone can transform their eating habits, adopt a workout routine, and change their lifestyle!
Of course, all of my learning has spilled onto my family and now my husband and I go out bike riding at least two times a week, my vegetable hating daughter now asks for more of "that salad" I made the other day…
KA:  What are some of your fitness and nutritional goals for 2014?
YF:  I usually don't like to worry about things so far ahead. I prefer to enjoy my present time, but I can tell you this: in a little over three years I've gone from a size 13 to a size 5-6! And I even have proof.  Some of my co-workers didn't remember me being "bigger" so I went and requested copies of my first employee group pictures and wow! Even I was surprised.  So, maintaining the path I'm in right now is my main focus, as is getting both my children and husband to actually enjoy a tofu dish.
KA:  Has your transformation changed your family and friends' views about wellness?
YF:  Yeah! Definitely, we have all been more involved in sports and healthy eating, but more importantly this has opened their appetite for health and wellness education.
KA:  Any advice for others wanting to transform their health?
YF:  Don't wait, don't expect immediate results but most importantly DON'T JUDGE YOURSELF!
Remember that we are all beautiful in our own unique ways, yes, even with that muffin top. Change your mind set.  When you go out shopping for clothes never buy something because of how much you liked how it looked on someone else……..buy it because you will feel comfortable and beautiful!!