Announcing Rancho La Puerta's newly revised
A one-day spa and culinary escape to Baja California leaving from San Diego!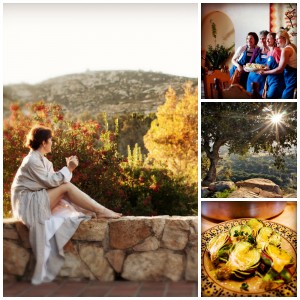 Food, fun, fitness….AND a massage? Count me in! What a great way to get back in shape via Rancho La Puerta's "road to renewal" program of mind/body/spirit fitness! And all in one day. You'll enjoy an unforgettable experience and probably feel inspired to return someday soon for an entire week at our world-renown resort. (All Saturdays at the Ranch participants receive a discount invitation good toward any week-long stay.)
Not only can you sample the best of the full Rancho La Puerta experience, the day is equally perfect for celebrating birthdays, retreats, club outings, team-building sessions, or any other private event. Go with friends, or go solo—you'll have a great time.
"Saturdays at the Ranch" spa days have been very popular for five years, and are usually sold out. Starting February 15 we've refreshed the program to include a little more "spa-ing," a little more hiking, and a more varied experience overall. We think you'll find it a lot more fun, AND a great value, AND even more relaxing.
Your day includes:
Complimentary round-trip transportation by motor coach from the Mission Bay Visitor Center to Tecate, Baja California, and return (approximately 1 hr. 20 min. each way).
Tour of Rancho La Puerta grounds and facilities.
A choice of select fitness classes.
Mediterranean-style lunch at the Ranch.
One luxurious 50-minute massage.*
Time for optional exploring, enjoying the swimming pools, Jacuzzi time and more.
Nature hike through a portion of Rancho La Puerta's 3,000-acre nature preserve.
Cooking Demonstration and interactive tasting at La Cocina Que Canta ("The Kitchen That Sings") garden culinary center.
Special Rate of $300 per person, plus tax. Contact reservations@rancholapuerta.com or 877-440-7772 to reserve your places as soon as possible.
Book early space is limited to a maximum of 45 participants.  Passport required for travel to Mexico.  Some restrictions apply.  Schedule may change or an individual day may be cancelled because of inclement weather or low attendance. *Massage choices are: Relaxation, Deep Tissue or Therapeutic