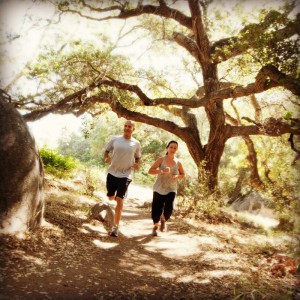 Join us April 5th 2014 for Triathlon Week with Lesley Mettler at the Ranch!
Whether you're looking to compete in triathlons or desire to be more fit, the week of April 5th could be your first step on the road to true fitness.  Join us for a program dedicated to achieving your goals in addition to our regular fitness schedule and guest presenter program.  Details below!
Tips & Tricks of Triathletes – A 50 Minute Educational Class
Have you ever wanted to try a Triathlon or perhaps participated in one and need some tips and tricks? Join this fun interactive session to hear how you can get started (you'll be surprised how easy it is), plus tips and tricks for nutrition guidance and mental strategies used by top athletes.
Workouts While Traveling. No gym? No problem! –  A 50 minute Workout and Educational Class
Maintaining a workout routine or exercise plan while out of town for business or pleasure can help you stay motivated, relieve stress, and continue getting fit. You don't need a gym to keep you fit while on the road. Coach Lesley will teach you exercises you can do anywhere to fit in an effective workout when traveling.
POWER 30 – A 30 Minute Workout Class
What can you achieve in 30 minutes? A butt kickin', sweat session, that's what! Coach Lesley's 30 minute express class combines strength, cardio and core training in a series of 30 back-to-back exercises done in 90-second, 60-second or 30-second intervals.

Lesley Mettler is the founder and head coach of CoachLesley.com based in Seattle, Washington. For over 20 years, Lesley has been helping athletes from beginner to advanced, reach their goals.
She has competed in over 15 marathons across the U.S. and made her foray into the sport of Ironman triathlons in 2006, qualifying and competing in the World Championship Ironman in Kona, Hawaii. As a cyclist, she has completed numerous long-distance rides including the Big Ride Across America and the Big Ride Pacific Coast. Coach Lesley graduated Summa Cum Laude from Oregon State University with a B.S. in Exercise and Sports Science, with a pre-medical emphasis and a Minor in Nutrition. Lesley is a USATF Division I and II Track and Field Coach, USA Triathlon Level II Certified Coach, a USA Cycling Level I Coach, and an AFAA Certified Personal Trainer. Join one of her classes and you're sure to be inspired and learn an array of new tips. Her enthusiasm and motto of "fitness can be fun" is contagious.