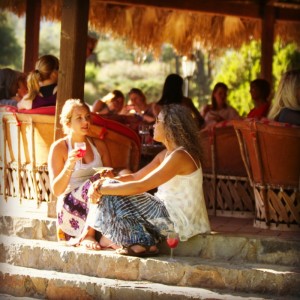 One of best bonding experiences I've ever had with my mom was when we went to Rancho La Puerta together. From the second we arrived it felt like the stress of the "real world" melted away. Perhaps that's because when we first stepped onto the property, we were greeted with cool towels, lemonade, and a beautiful natural setting. We knew we had the luxury not to think about household chores, work obligations, commuting and other daily stressors. Being outside of our "real lives" allowed my mother and I to instantly relax into The Ranch experience and fully enjoy each moment.
From the get-go my mom and I had two very unique Ranch vacations. My mom is wonderfully outgoing and quickly made friends with the fellow guests. And the kitchen staff. And the gardeners. She reported to me that the gardeners are the happiest gardeners she has ever come across – they love what they do. Everyone I met was nice, but I felt a little more hesitant to open up. It took me a few days to foster new friendships.
During our stay my mother took several art classes, swam and played tennis. I spent my time practicing yoga and participating in indoor fitness classes. We did, however, bond over the hikes, a cooking class, and cardio drumming class. We both loved the informative lectures, delicious farm-to-table cuisine, and the lavish spa treatments.
Each night my mother and I met in our room and fell asleep talking about everything we did and learned during the day. It was a mini-slumber party. It conjured up memories of when I was little and my mom would lie in my bed, talking or reading to me until I drifted to sleep. It was comforting, and made me feel deeply connected to her in a way that I hadn't in felt in a long time. I will always cherish the special time I spent with my mom at The Ranch.