I've always been intrigued by the Five Elements Treatment at The Ranch because it is a spa experience that incorporates both health and spirituality. During my last visit I finally experienced what it's all about, and it completely nourished my mind, body and spirit. The treatment left me so inspired that this is the first post in my Five Elements Blog Series. But before I share more details about my wonderful spa experience, it is important for you to understand the basic principles that the treatment is based on.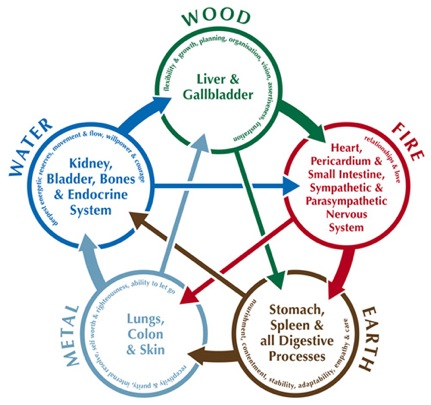 The Five Elements body treatment program is based on the ancient medical Chinese tradition of equilibrium and interconnection between all living beings. The fundamental action of these treatments is to balance and restore the "Qi" energy of the body and mind.
In the Five Elements theory wood, fire, earth, metal and water are used to explain the composition and energies of the physical universe and to interpret the relationship between the human body and the natural environment. According to the theory, the five elements are in constant movement and change, as are humans, earth and space. This interconnection between the elements signifies the balance, the complex connection and the unity between the human body and the natural world.
In traditional Chinese medicine the organs and tissues have similar properties to the five elements, both physical and energetic. They interact as do the five elements. Each organ and tissue has been related to and classified to each of the five elements.
Between the five elements there exists close relationships that are classified as creation and control.
In the diagram above, the creative cycle is the outer ring, the control cycle the inner pentagon.
The order of creation is that the wood promotes fire, fire promotes earth, earth promotes metal, metal promotes water, and water promotes wood. In this way each of the five elements has a creation relationship with the other, and so this cycle is also endless.
In the order of control wood controls earth, earth controls water, water control fire, fire controls metal, metal controls wood. Each of the five elements also has a control relationship with the other, and so this cycle is also endless.
These creation and control relationships cannot be separated. They are the basis for maintaining normal harmonious relations and the cycles of natural elements.
Positive Aspects of the Elements:
Wood – Courage and Energy
Fire – Entrepreneurship and Enthusiasm
Earth – Understanding and Concentration
Water – Willpower and Decisiveness
Metal – Correct Judgment
The Classification of Things According to the Theory of the Five Elements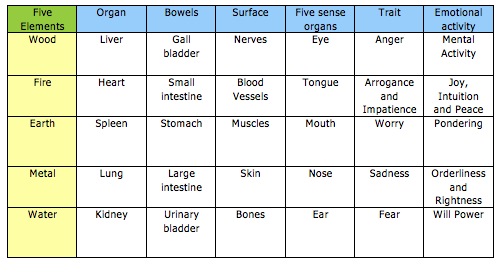 The Five Elements Treatment is true to its name – it is composed five different treatments that specifically target one element each. I decided to go with Metal for my visit since I needed some tender love and care in the areas of reflection and harmony of the mind. In Part II of this post, I will talk about the benefits of the Metal treatment and my personal experience with it.  Stay tuned!