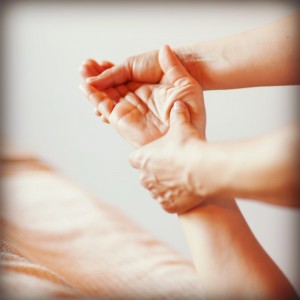 Recently I wrote an article about our new Five Element Treatments.  They are five separate treatments, each a different element: fire, water, earth, air and metal.  I was lucky enough to experience the metal treatment and it was just what I needed.
Here on the blog I write about many serendiptious things that seem to magically happen at The Ranch.  This metal treatment, which is all about listening to your intuition and having clarity, fell into my lap at a very confusing time in my life.
My friend had suggested the metal treatment to me, but because I'm sometimes a stubbornly independent person, I kept thinking, well what about fire?  I'm a fire sign, so maybe that would be good for me! Or earth perhaps, as I thought something to ground me might be what I need right now.  When I arrived at the Villas Health Center I began looking through the informational book about all of the Five Element Treatments.
And that's when I gave in.  Although, all of the other treatments sound very enticing (and I will definitely do them at some point!), the description of the metal treatment seemed to instantly connect with what my gut was telling me I needed.  Clarity, reflection and ironically, intuition.  I closed the book, knowing I was on the right track.
Jesus was my therapist and he was amazing!  He is such a comforting soul to be around. This treatment reminds you to breathe, be aware and reflect.  It started with a deep inhalation of an essential oil blend and from there Jesus worked his magic. This treatment is not your typical Swedish massage, but it is extremely relaxing and was just what I need for that day, in that moment in time.
TREATMENT DETAILS
METAL ELEMENT Symbolizes order and precision, quietness and reflection. Its energy is one of protection, involvement and separation as well as instinct and senses.  It is the gravitational force, the minerals within the earth and the powers of electrical conductivity and magnetism. The Metal motion is determined, forceful, unyielding and self-reliant. It has structure but can take on new forms when it is in the molten state. Its energy is inward moving, consolidating. The metal element out of balance impairs the intake and outflow of the most powerful life force, air, creating blockages, grief and sadness. In balance, this element generates optimism, orderliness and rightness. It provides us with physical sensations of touch as well as taste, smell, sight and hearing.
Vital organ: The lungs; the residence of the most pure joy of life
Subjacent organ: Large intestine
Essential oils: Clove, cypress, eucalyptus and douglas fir
Base oils: Almond, jojoba and St. John's wort
The treatment:
A very different massage involving firm pressure with stretching, pulling and twisting. This treatment restores harmony in the mind and body.
Clove (Syzygium aromaticum)
Emotional: Balances the effects of the emotions of grief and sadness on the lungs and intestines. Aids in awakening the senses, giving us sensitive confidence, discouraging inhibiting thoughts and encouraging progression. An oil of action.
Physical: A general stimulant and toxic, antibiotic, antiseptic, analgesic, antioxidant, antispasmodic and strongly anti-infectious.
Cypress (Cupressus sempervirens)
Emotional: Liquefies emotional congestion making it easier to leave the body. Helps to put the cause of grief and sadness behind us and put an end to negative relationships. Gives stability, willpower and the ability to cope in our transitions.
Physical: Disinfectant, arterial decongestant, antiseptic, astringent. Use for colitis, water retention, edema, stimulating the circulation and pancreas. Excellent for the lungs to relieve bronchitis and asthma.
Eucalyptus (Eucalyptus globulus)
Emotional: Imparts a sense of newness and fortitude, of a long time on earth. Powerful healer; it encourages the healer within us. It gives emotional balance, concentration, centering and rationality.
Physical: Excellent for all respiratory conditions, antibacterial, expectorant, analgesic, stimulates the circulation and helps relieve arthritis, rheumatism, muscle and fibrosis.
Douglas Fir (Pseudotsuga menziesii)
Emotional: The fragrance enters us deeply and stirs our understanding of nature allowing us to embrace its presence, acceptance and wisdom. It teaches us the generosity of spirit is what endures in our deeds and loves. It promotes mindfulness, direction and perseverance.
Physical: Anti-infectious, anti-depressive, respiratory balm, circulatory stimulant, calms arthritis and muscle pain. An excellent overall nervous system tonic.
If you are interested in booking one of our Five Elements treatments during your stay, please visit our Book Your Spa Treatment Page.