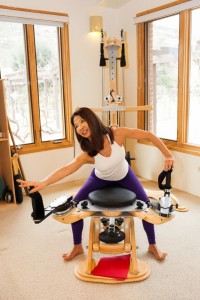 Have you ever experienced GYROKINESIS® exercise? I tried it for the first time last week and I have to say I was blown away by how great I felt afterwards.  I'm glad I attended the class; before it started I was feeling anxious due to some things in my life,  and contemplated not going because I wasn't in the "right state" of mind. I'm glad I decided to push through and just do it.  It was immensely rewarding.
So, what exactly is the GYROKINESIS® method?
It is a series of motions performed on a short stool utilizing small movements of the spine which are circular or spiral in look and feel.  It uses breathe, rhythm and pulsating movements to gently open the spine and joints, massage internal organs, stretch muscles, nerves, tendons and increase one's overall sense of well-being.
I went to the meditative GYROKINESIS® class, which involves less vigorous movements than the regular practice, but it still incorporates exercise and breathe work. While in meditation, all thoughts are completely focused on the breathe while the body moves in a seamless motion.  This form of meditation felt better to me than a traditional meditative session, because I was moving fluidly instead of sitting still.  Although I have found great benefits in typical meditative practices, I often emerge from them feeling stiff.
The breathe work in GYROKINESIS® movement is completely different than what I'm accustomed to in my home yoga and meditation practices.  It's hard to explain, but it involves taking deep breathes through the nose and letting it out in short spurts through the mouth in sync with the movement.  This type of breathing put me at ease and helped to melt away my anxiety.
There were a total of four sessions of movement meditations in the 45 minute class. After each session we took a couple of minutes to savor the feeling of calmness within our bodies.  I felt the sort of happiness and tranquility that I experience in savasana, the final resting pose in a yoga session.
I would definitely like to attend more GYROKINESIS® classes at home.  Given how I felt when I walked into the class versus how I felt when I came out, I think GYROKINESIS® is like magic for my soul.
Upcoming weeks that GYROKINESIS® will be featured at The Ranch: