–ecological diversity and beauty beneath a sacred mountain
As one of our guests astutely observed, "Everything starts with the mountain." Rancho La Puerta lies in a broad valley at the foot of 3,885-foot Mount Kuchumaa. Here the meandering Kumeyaay Creek meets the Tecate River. Chaparral holds the slopes and foothills of the mountain in a wild embrace. Huge and fantastic granite boulders surface from a sea of blue when the wild lilacs bloom. Artemisia and sage scent the air.
Home to coyotes, cottontail rabbits and foxes, Kuchumaa also enjoys a diversity of North American bird species. Ravens, golden eagles and red-tailed hawks sweep the sky, and towhees, wren and quail scatter before morning trail guides.
Some people are "naturally" a bit intimidated by all this nature. Rest assured that all hikes are guided, and that our grounds are extensively landscaped which effectively eliminates any encounters with creatures other than birds.
Over the years, the Szekely family has created a 3,000-acre nature preserve that extends to the international border. The mountain is also protected on the United States side.
Geology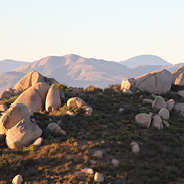 The boulders scattered over Mt. Kuchumaa are ever-fascinating. Some balance in improbable positions. Others are rooted in the crumbly soil as if placed by the most ancient of Zen-master gardeners. Throughout these rock gardens weave freshets of
ceanothus
—the "mountain lilac" that cloaks the mountain in purple blooms each spring– punctuated by the tall, white-spike blooms of Our Lord's Candle.
Above it all, you'll see the flitting forms of lazuli buntings, the tiny, colorful melodic birds that watch us from the rocks as we hike by, or the dark wing-commas of high-soaring ravens and hawks against an intense blue sky.
The mountains and meadows you hike around Rancho La Puerta are home to these 100-million-year-old rocks which have been shaped by the forces of wind and water as they've become exposed above-ground. The spherical rounding you will see (many boulders look like immense eggs) as well some lacy-thin carving, are usually the result of wind-borne sand knocking off the "high spots" (other grains) imbedded in the granite. Picture a microscopic, endlessly patient, series of blows from tiny, tiny chisels.
Please visit the San Diego Natural History Museum online for more information on the region's geology and natural history.
Wildflowers
The chaparral of Mt. Kuchumaa offers delightful discoveries. As you hike Rancho La Puerta's mountain trails, be sure to watch for wildflowers. We've included a few below; many more are in the Wildflower Book in the Guest Lounge (where guests assemble for early morning hikes).
Apricot Mallow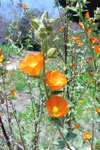 (Sphaeralcea ambigua)
Also called "desert hollyhock." Grows 3 to 4 feet tall and 2 or 3 feet wide, with multiple branching stems covered in white or yellowish down. Stems bear many blooms, each about an inch wide.
Plant type: Perennial
Blooms: March – June
Habitat: Dry rocky slopes and canyons, in creosote bush scrub and pinyon-juniper woodlands, to 4,000 feet.
Baby Blue Eyes

(
Nemophila menziesii
)
A low-growing (to 12 inches), slender, spreading plant with slightly succulent stems. A favorite with horticulturists and hikers alike.
Plant type: Annual
Blooms: April – June
Habitat: Shady flats and slopes throughout cismontane California. Found in coastal sage scrub, chaparral, valley grassland and oak woodland, below 5000 feet.
California Goldfields

(Lasthenia californica)
This bushy annual grows to about 12 inches tall. In spring, in undisturbed areas of its native habitat, it carpets foothills and valleys in bright golden yellow.
Plant type: Annual
Blooms: March — May
Habitat: Exposed areas of sunny slopes below 4500 feet, in untouched backcountry areas, to the western edge of the desert.
Silver Puffs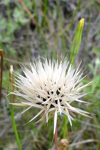 (
Uropappus lindleyi
)
Long, slender green buds open to dime-sized yellow blooms, which in turn become spiky white seed pods — hence the name.
Plant type: Annual
Blooms: April to June
Habitat: Open grasslands, woods, chaparral, cismontane and desert (in loose soil), to 6,000 feet.
Sun Cup

(
Camissonia
sp.)
Orange buds unfurl into sunny yellow, four-petalled flowers. Leaves and stems are covered by silvery hairs. When backlit by low-angled sun, these fuzzy plants glow.
Plant type: Perennial
Blooms: March to August
Habitat: Shrubby slopes, especially burns and disturbed areas in chaparral, to 2,500 feet. Found from Baja to central California.
Phacelia

(
Phacelia sp.
)
This dainty, lavender-blue wildflower delights hikers. The deep purple variety is one of many native plants (including the Torrey pine) discovered by botanist and physician, Charles C. Parry, during the late 1800s.
Plant type: Annual
Blooms: March – May
Habitat: Burned areas, slopes, coastal sage scrub and chaparral, to the western edge of the Colorado desert, to 4000 feet.
Wild Peony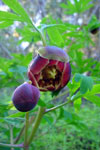 (
Paeonia californica
)
The delicate appearance of this perennial belies its toughness; it prefers no summer water (its yam-like roots will rot), and is unfazed by snow. Yet like many wildflowers, it's difficult to cultivate in a garden.
Plant type: Perennial
Blooms: January – March
Habitat: Brushy places in coastal sage scrub, chaparral, and southern oak woodland, along the coast and foothills, to 4,500 feet, from northern Mexico to Monterey, CA.
Birdwatching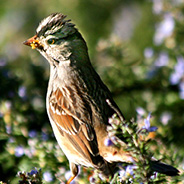 Imagine you are a bird migrating over the region; you would look down and see a large green oasis with flowers, trees, and water in an otherwise brown and arid landscape. Naturally, you would want to drop down and investigate.
They do.
The Ranch is equally attractive to native (resident) birds, which stay here year-round. Some of these prefer the developed gardens and lawns; others, the oaks or chaparral on the hillsides. The variety of vegetation in and around the creek area is especially enticing.

Download Guide to "Birds of Rancho La Puerta"
Open to see Ranch Bird List
The following list includes all the common birds at the Ranch, as well as those most likely to be seen during spring and fall migrations. The code symbol by each name indicates when you are most likely to see a particular bird, and identifies less common ones with an asterisk. The key to the symbols is at the end of the list. We hope this list introduces you to the great variety of birds that make use of the various habitats at the Ranch, and that by becoming more familiar with the bird life here, your stay at the Ranch will be even more enjoyable.
Key to symbols:

Y Year-round resident at the Ranch
B Known to breed at the Ranch
b Possibly breeds at the Ranch
M Seen during spring and fall migration only
S Spring-summer breeding migrant
W Winter visitor only
* Rare or less likely to be seen at the Ranch


Herons and Egrets
Great Blue Heron *
Great Egret *
Green Heron *
Snowy Egret *
Vulture, Hawks and Eagle
Turkey Vulture Y
Black-shouldered Kite *
Cooper's Hawk Y, B
Sharp-shinned Hawk W
Red-shouldered Hawk Y, B
Red-tailed Hawk Y
Golden Eagle *
Prairie Falcon *
American Kestrel Y
Quail
California Quail Y, B
Shorebirds and Gull
Killdeer *
California Gull *
Doves
Mourning Dove Y, b
Band-tailed Pigeon *
Roadrunner
Greater Roadrunner Y, b
Owls
Great Horned Owl Y, b
Barn Owl *
Western Screech Owl Y, b
Nightjars
Common Poorwill Y
(inactive in winter)
Lesser Nighthawk * S
Swifts
Vaux's Swift M
White-throated Swift S
Hummingbirds
Black-chinned Hummingbird S
Anna's Hummingbird Y, B
Costa's Hummingbird Y, b
Calliope Hummingbird * M
Rufous Hummingbird M
Allen's Hummingbird * M
Woodpeckers
Acorn Woodpecker Y, B
Nuttall's Woodpecker Y, b
Downy Woodpecker *
Red-breasted Sapsucker *
Red-naped Sapsucker * W
Northern Flicker Y, b
Flycatchers
Western Wood-Pewee * S
Pacific-slope Flycatcher S, B
Ash-throated Flycatcher S, B
Olive-sided Flycatcher M
Western Kingbird S, b
Cassin's Kingbird Y
Black Phoebe Y, B
Say's Phoebe * W
Lark
Horned Lark * W
Swallows
Tree Swallow Y
Violet-green Swallow M
Northern Rough-winged Swallow S
Cliff Swallow S, b
Barn Swallow *
Jay, Crow, Raven
Western Scrub-Jay Y, B
American Crow Y, B
Common Raven Y, b
Tits and Nuthatch
Mountain Chickadee *
Oak Titmouse Y, B
Bushtit Y, B
Wrentit Y, B
White-breasted Nuthatch Y, b
Wrens
House Wren Y, B
Bewick's Wren Y, B
Rock Wren *
Canyon Wren Y, b
Cactus Wren *
Kinglet and Gnatcatchers
Ruby-crowned Kinglet W
Blue-gray Gnatcatcher Y, b
California Gnatcatcher Y, b
Thrushes and Bluebird
American Robin W
Varied Thrush * M
Hermit Thrush W
Swainson's Thrush M
Western Bluebird Y, B
Mockingbird and Thrasher
Northern Mockingbird Y, b
California Thrasher Y, B
Silky Flycatchers
Cedar Waxwing W
Phainopepla Y
Shrike
Loggerhead Shrike *
Vireos
Cassin's Vireo M
Hutton's Vireo *
Warbling Vireo M
Warblers and Chat
Orange-crowned Warbler Y
Nashville Warbler M
Yellow Warbler S, b
Yellow-rumped Warbler W
Black-throated Gray Warbler S
Townsend's Warbler M
Hermit Warbler M
Common Yellowthroat Y, b
Wilson's Warbler M
Yellow-breasted Chat * S
Tanager
Western Tanager M
Towhees
California Towhee Y, B
Spotted Towhee Y, B
Sparrows and Junco
Rufous-crowned Sparrow Y, b
Black-chinned Sparrow S, b
Lark Sparrow Y, b
Sage Sparrow Y, b
Savannah Sparrow * W
Fox Sparrow W
Song Sparrow Y, B
Lincoln's Sparrow * W
White-crowned Sparrow W
Golden-crowned Sparrow W
Dark-eyed Junco W
Blackbirds and Cowbird
Brewer's Blackbird * Y
Red-winged Blackbird *
Western Meadowlark *
Brown-headed Cowbird Y, b
Orioles
Hooded Oriole S, B
Bullock's Oriole S, b
Scott's Oriole * W
Grosbeaks and Bunting
Black-headed Grosbeak S, B
Blue Grosbeak * S
Lazuli Bunting S, b
Finches and Siskin
House Finch Y, B
Purple Finch *
American Goldfinch S
Lesser Goldfinch Y, b
Lawrence's Goldfinch *
Pine Siskin * W
Introduced Species
Rock Pigeon Y (mainly in town)
European Starling Y, B
House Sparrow Y, b
Our Resident Bird Expert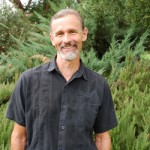 Currently you will find Rob Larson leading bird and nature walks at the Ranch.
Rob was born in Monterey, California and spent 30 years in the Pacific Northwest, with notable detours through Southeast Asia and the American Midwest. He holds a degree in nursing and a degree in fine arts. As an artist, Rob has worked with sculptural media including wood, bronze and the majority of his work has been with clay. He has taught studio art classes and designed and developed ornamental gardens. His love for nature started early working in the Oregon woods as a sawyer.
Along with his interests in art and horticulture, Rob enjoys free-diving coral reefs and bicycle touring. He has done a bicycle tour from Oregon to Panama!
Rob started working with Salvador in Tres Estrellas, our organic garden, in 2000. To Rob, the Ranch represents over 70 years of learning and teaching about life. It is experimental in ideals, an institution of the real higher learning and a gathering place for life-long learners.
Mt. Kuchumaa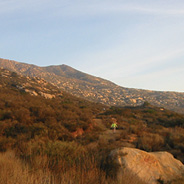 Kumeyaay tribespeople knew Mount Kuchumaa as the "exalted high place." In their eyes, Kuchumaa was the womb of the world, the place from which creation sprang. Only shamans were allowed on the summit. It was a place of initiation for spiritual leaders, while the valleys and oak woodlands below were an important gathering place for the people.
Near springs and streams, in the shade of the oaks, families ground acorns into meal. Many morteros – communal bowl-shaped depressions, or "grinding rocks" – remain in flat boulders, testament to early habitation. To this day, the tribes' few remaining elders and shaman continue to hold ceremonies on the summit.
The first known non-indigenous people settled here in the mid-19th century: the Federico family, from whom the Szekelys bought the property. The Federicos lived on registered land granted to them by Benito Juarez in 1862. Some of their grapevines are in our vineyards today.
A U.S. government report goes into great detail on the significance of Mt. Kuchumaa.
Kuchumaa Passage
Kuchumaa Passage

A sculptural monument to honor a sacred mountain
This site-specific artwork nestles comfortably on the edge of the oak grove as if it has been here forever. In its use of local rock and brick, it reflects the textures of the mountain. It also reflects the indigenous culture of the Kumeyaay—Native Americans who lived in this San Diego/Northern Baja California region and walked as much as 100 miles to meet together at the base of Mt. Kuchumaa as a tribe. Here they enacted sacred ceremonies, worked out peace pacts, and shared ways to live harmoniously on the land.
All of us involved with the creation of Kuchumaa Passage at Rancho La Puerta trust that those who pause at the threshold will choose to stay a while; to reflect and connect with this special place and be touched by that ancient sacredness.